Turning the Curve – Refugee Women Drive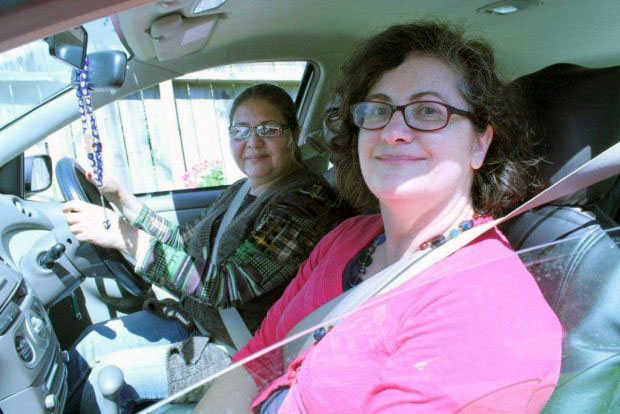 Ruth Nichol, volunteer teacher and Gulchehra, learner driver
Imagine that you've never been behind the wheel of a car before and that you are learning to drive for the first time in your life. Imagine doing this in a foreign country and that you're a woman and a former refugee. Lynda Chanwai-Earle is along for the ride with a woman from Afghanistan to learn about volunteer driving lessons that are changing some women's lives in extraordinary ways.
Imagine that you are learning to drive for the first time in your life and you are a woman, a former refugee. Lynda Chanwai-Earle is along for the ride with a woman from Afghanistan to learn about… Read more Audio
"We're looking for some remarkable women willing to volunteer their time to tale a refugee-background woman for driving practice. The learner drives have had lessons with a driving school and need to practice to prepare for their restricted licence test."
– Naomi Tocher, Community Development, ChangeMakers Refugee Forum
As women, mobility is something we probably take for granted in this country, it's not illegal to drive as a woman. We are used to having this form of independence. For Gulchehra Bawari and her volunteer teacher Ruth Nichol, a driver's licence will be a long-awaited and life-changing reward. Gulchera feels the need to touch her miniature Qur'an hanging from the rear vision mirror before she begins her driving lessons with Ruth. The Qur'an is surrounded by beautiful blue glass rosary beads and glints in the sunlight as Gulchehra backs out of her driveway in her family car, a four-door sedan. We're taking a nice Sunday drive around the suburbs of Wellington.
I'm mindful that this woman is still learning to drive so I am an extra quiet back-seat passenger, absolutely no distractions. I'll wait until the end of the driving session to ask my questions.
Describing herself as an occasional journalist, Ruth Nichol normally works for Philanthropy New Zealand. She's been Gulchehra's volunteer driving teacher for over a year. Once or twice a week, Ruth has given an hour of her time, calmly and patiently. "Calm" is the key because at times their excursions might be a little tense as Gulchehra "makes her light" (Gulchehra's way of saying she will indicate) to change lanes, motorways are still a little scary but ultimately they always have fun. They like to drive to the south coast of Wellington to the Bach (Gulchehra loves looking out to the sea) and to the recycle shop at the tip where they find the odd second-hand treasure. Gulchehra is 48 years old now.
"A driving instructor told me that you need to do at least an hour of driving training for every year of your life, so the older you are the longer it takes, and imagine throwing in English as a second language."
Gulchehra tells me that Ruth is very patient, she prefers another woman teaching her – woman to woman – unlike her husband who shouted at her in anxiety the first time Gulchehra got behind the wheel. It helps to have women teaching, particularly if there is a cultural barrier that might make a woman learning more uncomfortable with a volunteer man teaching her.
Set up three years ago, "Turning the Curve" was informed by a steering group of women from the refugee communities in Porirua, The Hutt and Wellington. Community Development worker Naomi Tocher met with these women to hear what they needed most to help with refugee resettlement. Naomi explains that they unanimously said the same thing:
"For them the most important thing, their number one priority to get on with life in NZ was to get their drivers licence, so they could be like other NZ women."
As for more volunteer drivers or sponsors interested in helping fund the driving lessons?
"Look at this as an opportunity for you to support these women, to make a real difference in their lives."