Neptune's Navy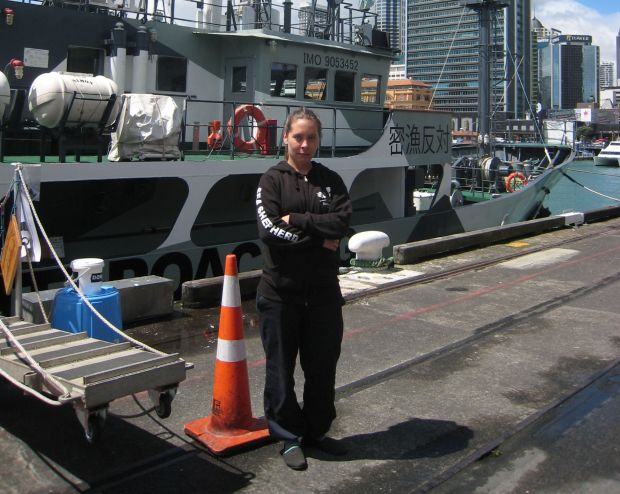 "My honest opinion is that no one should be down in Antarctica. It should be left for the wilderness that it is."
– Sonja Hyppänen, manager of the Sea Shepherd vessel The Sam Simon
Lisa Thompson takes a tour of the Sea Shepherd vessel The Sam Simon, as its crew prepare for protest action in the Southern Ocean this summer. Read more Audio
If Sonja Hyppänen had her way, she wouldn't be preparing for a three-month journey that will take her to one of the most physically demanding places on earth.
However, the presence of six or seven vessels believed to be illegally catching Patagonian and Antarctic Toothfish in the Southern Ocean, has seen her pack her bags once more.
Sonja is taking part in 'Operation Icefish', the latest expedition organised by marine conservation group Sea Shepherd. It aims to raise awareness about both species of toothfish, which are particularly vulnerable due to their slow growth and sexual maturities. The expedition will also target the illegal vessels and will try to halt their operations by confiscating and destroying their fishing equipment. 
But they have to be found first. Sea Shepherd says poachers constantly rename and reflag vessels and they exploit the vast remoteness of the Southern Ocean to evade detection where effective surveillance is lacking. 
But 31-year-old Sonja Hyppänen, who hails from Finland, says she is not afraid of a potentially dangerous game of cat and mouse on the high seas. "Before they join, everybody agrees that they will be putting their lives on the line," she says. "You need to have the passion and the dedication to see the bigger picture, to see the interconnectedness of the whole ecosystem, that one human life there is maybe not personally the most important thing if that's something that can create a change."
And she defends the organisation's decision to take direct action. "We're aggressive yes, but we need to be aggressive against poachers who do not respect the laws and conventions… we've never hurt a single person in our action because that would be very controversial. If we want to protect whales, dolphins, seals, nothing gives us the right to harm another human being. Instead, we've been hurt many times."

The expedition is also set to monitor Japanese whaling ships in the area, despite Japan saying it won't be hunting whales this year. In March, the International Court of Justice declared Japan's whaling was a commercial enterprise, masquerading as scientific.
'Operation Icefish' will be carried out from on board The Sam Simon, a 55-metre vessel that once belonged to the Japanese Meteorological Agency. And while the irony isn't lost on Sonja, she says the organisation is very happy with its purchase. The Sam Simon will depart from Wellington for the Southern Ocean with its 29-strong crew at the beginning of December.