Katie Thompson doesn't do things by halves
It's a big ask but Katie Thompson reckons she can pull it off.
The Christchurch musician has committed to covering 31 New Zealand songs this month in a home-grown tribute to New Zealand Music Month.
And so far, she's tackled everyone from Lorde to the Topp Twins and from Shihad to Fat Freddy's Drop.
The concept is simple: Katie rehearses a new song each day, records it in front of a camera before posting it to her website.
She says performing this way can be intimidating as she wants to put out a song she's proud of, but time is limited.
"I do, maybe, ten takes of one song and then I've just got to go, 'Ok, that is actually alright, let it go'. Whereas, in a live setting, it is in the moment so I find this is a completely different ball game."
Katie Thompson hails from Hokitika and has been singing as long as she can remember. She also taught herself to play the guitar and drums.
"In Hokitika there was one music club and it happened to be a country music club so it's pretty much like Henry Ford, you've got a choice; its black or black, so for me, it was country or country."
She's since stayed with the genre, recording two albums and an EP, but has put her own spin on many New Zealand favourites during the Cover a Day project.
And she says she's had some positive feedback from the artists she's covered who have shared her versions with their fans.
Her friend Emma Cameron, from the band, Ashei, is one of several collaborators involved in the project.
She says, when she first heard the plan to record 31 songs in as many days, she felt sick on her friend's behalf but concedes it's been fun. "She's absolutely crazy. She always does big, ballsy stuff like this so I'm not really surprised that she's pulling it off."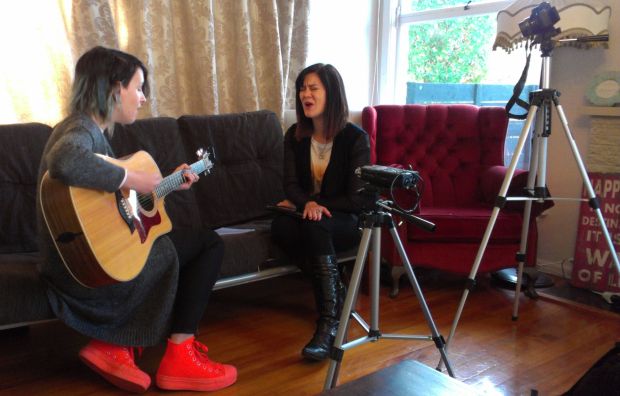 Katie Thompson (right) and Emma Cameron on guitar
Katy Gosset meets up and coming Canterbury musician, Katie Thompson, who is performing a cover a day as part of New Zealand Music Month. Audio

Katy Gosset meets up and coming Canterbury musician, Katie Thompson, who is performing a cover a day as part of New Zealand Music Month. Audio
Music details:
Artist: Katie Thompson
Song: You Can Leave Your Hat on
Composer:  Katie Thompson
Album: n/a – Live Recording
Label: RNZ Recording
Artist: Katie Thompson
Song: Buzzcut Season
Composer: Lorde
Album: n/a – Live Recording
Label: RNZ Recording
Artist: Katie Thompson
Song: Second Chance
Composer: Liam Finn
Album: n/a – Live Recording
Label: RNZ Recording