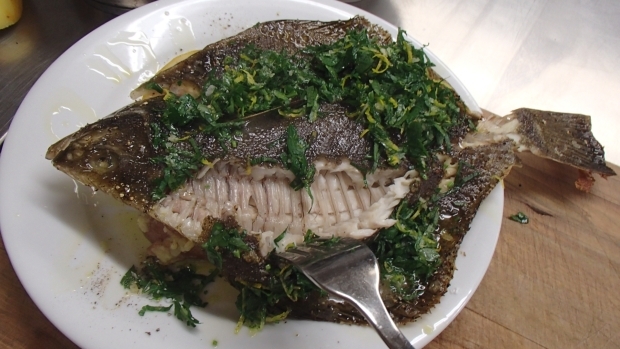 "I love eating whole fish. The entire fish may seem confronting with its eyes, scales, guts and tail, but cooking the fish entire gives you a moist and tender result that it absolutely worth the extra work required".
Tom Hutchison says flounder is a great starter fish to cook whole, as it is readily available, reasonably priced and a sustainable species here in New Zealand that is  comparatively easy to prepare whole. It doesn't need scaling, and as it is a flat fish, its skeletal structure makes it easy to eat off the bone.
He says yellowbelly Flounder and Sand Flounder are readily available and you can either catch it yourself the inter-tidal waters of your local beach, or pick it up at the fishmonger or grocer.
"When you're selecting fish, make sure that you're buying fresh produce. You can tell fresh fish by its clear eyes, red gills, firm appearance, and ocean fresh smell. In fact - it just shouldn't smell!"
Hear Tom Hutchison talk about cooking whole fish on Nine to Noon with Lynn Freeman.
Recipe: Whole Baked Flounder with Gremolata on Crushed New Season Potatoes
Gallery: Whole Baked Flounder