Nine To Noon for Wednesday 25 June 2014
09:05 Andy Coulson found guilty in phone hacking trial
The former editor of Britain's now defunct News of the World newspaper, Andy Coulson, has been found guilty of conspiring to hack phones at a London court. But another former editor of the paper, Rebekah Brooks, was cleared of all charges at the trial.
The hacking of murdered schoolgirl Milly Dowler's phone by the News of the World was central to the case. Mark Lewis is the solicitor acting for Millie Dowler's parents Bob and Sally and for others who had their phone hacked; and journalist Peter Jukes, who has been in court for every single day of the trial, and has written a book, The Inside Story of the Phone Hacking Trial.
09:20 Are school children worse off under new school dental system?
Hundreds of school dental clinics around the country have been closed, and replaced by what the Ministry of Health calls a hub and spoke system.
While children still get their teeth checked at mobile dental clinics which come to schools, if they require follow up treatment they now need to be taken by a parent to a hub clinic during working hours. But the rate of non attendance of these appointments is around 17 percent.
Janice Gemmel is the Secretary and Organiser of the National Union of Public Employees, which represents dental staff in Christchurch; Deborah Woodley is the Ministry of Health's Group Manager of Sector Capability and Implementation; and Robin Whyman was the Ministry's Dental Officer of Health when the new model was designed. He is now the Clinical Director of Oral Health Services at Hawkes Bay DHB.
09:45 Australia correspondent Bernard Keane
10:05 A former US hospital administrator on improving stalled patient satisfaction rates
Fred Lee was executive vice-president at one of America's largest hospitals and has worked in healthcare for 30 years. He has also done consulting work for the Disney Corporation, which allowed him to make cultural comparisons between working at Disney and working at Florida Hospital. Fred Lee used what he learned to unravel why hospital patient satisfaction rates have been stuck at the same level for a decade, and what can be done to improve it. He has written the book, If Disney Ran Your Hospital: 9 1/2 Things You Would Do Differently.
10:35 Book review: Fictional Woman by Tara Moss
Reviewed by Rae McGregor, published by HarperCollins.
10:45 The Reading: How to Hear Classical Music, written and told by Davinia Caddy
Musicologist, historian and writer Davinia Caddy offers a guide to assist a listener to understand, interpret and appreciate classical music and an overview of the history and social mores of the genre. (Part 3 of 10)
11:05 Marty Duda's artist of the week: James
Manchester's James formed in the mid-1980s in the wake of The Smiths' popularity, even scoring an endorsement from Morrissey himself in their early days. As the band's sound evolved, comparisons to U2 and The Waterboys became more apt. The band, led by vocalist Tim Booth, scored their breakthrough UK hit in 1991 with Sit Down and in 1993 in the US with the Eno-produced Laid. The band split in 2001 but reformed in 2007. Their latest album, La Petite Mort, has just been released.
Tracks:
1. Skullduggery – James taken from 1986 album "Stutter" (Sire)
2. Sit Down – James taken from 1991 album "Gold Mother" (Fontana)
3. Laid – James taken from 1993 album "Laid" (Mercury) 
4. Moving On – James taken from 2014 album "La Petite Mort" (Cooking Vinyl)
11:30 Legal commentator Ursula Cheer
11:45 Science commentator Dr Simon Pollard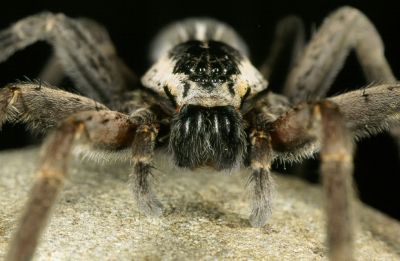 Over the last week, the science section of major newspapers around the world have been reporting about spiders that catch fish and how it is much more common than was previously thought. 
Why are we so fascinated that spiders can catch fish? And did you know there are over 50 records of spiders catching bats. Is the idea of spiders eating mammals a bit close to home?
This photograph is of a New Zealand water spider, which is known to catch fish. Actually, if you were about 1cm high and came face to face with this spider, this view is probably the last thing you would see.