Nine To Noon for Friday 20 June 2014
09:05 Eighty percent of schools have inadequate health services, says report
Dr Simon Denny is a senior lecturer in Youth Health from the University of Auckland.
Allan Vester, Chair of the Secondary Principal's Council and Principal of Edgewater College in Pakuranga.
09:30 Out on the Fields - homophobia in sport
Professor Sue Rankin on the first large scale international survey into homophobia in sport.
Sue is one of the researchers behind Out in the Fields, a survey collecting data from the UK, USA, Ireland, Australia, Canada and New Zealand and comparing the results.                                  
09:45 Fairfax writer and Pacific Correspondent, Mike Field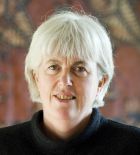 10:05 From the psychiatric ward to the United Nations
Former Mental Health Commissioner, Mary O'Hagan on her memoir, Madness Made Me.
10:35 Unity Books' Review: Carsick by John Waters
Reviewed by Kiran Dass, published by Corsair.
10:45 The Reading: A Pig Tale by Susy Pointon
A tale of Jackie's wandering pet pig and its effect on her neighbour. (Part 2 of 2).
11:05 Jeremy Taylor with new music
Jeremy Taylor checks out new releases from New York songstress Sharon Van Etten, former White Stripe Jack White, and pop princess Lana Del Rey.
11:30 Sports commentator Brendan Telfer
Brendan Telfer discusses Spain crashing out of the Football World Cup; the All Blacks on the threshold of a world record which they can equal in Hamilton tomorrow; and whether an 11-year-old girl be allowed to play in the United States Women's Open golf championship which started this morning in Pinehurst North Carolina.
11:45 The week that was with Radar and Elisabeth Easther
Music played in this show
Artist: Lianne La Havas
Song: Au Cinema
Composer: Le Havas/Hales
Album: Is Your Love Big Enough?
Label: Nonesuch
Time: 9:23
Artist: America Grenell
Song: Honey
Composer: Grenell
Album: Three Feathers
Label:Central
Time: 9:37
Artist: James Brown
Song: Cold Sweat
Composer: Brown/Ellis
Album: THe Very Best of James Brown
Label: Polydor
Time: 10:06
Artist: Zoe Muth
Song: I've Been Gone
Composer: Muth
Album: Starlight Hotel
Label: Signature
Time: 10:43