Nine To Noon for Wednesday 18 June 2014
09:05  Reasons for the sectarian fracturing of Iraq
As Sunni Islamist insurgents push towards Baghdad, we take a closer look at the violent sectarian fracturing of Iraq - and how the world should respond. Sami Rasouli, the director and founder of the Iraqi peacemaking NGO Muslim Peacemaker teams, who's on the ground in Najaf, about 160 kilometres from Baghdad. Sami Ramadani is a senior lecturer in sociology at London Metropolitan University, who was a political refugee from Saddam Hussein's regime.
09:30 The US push for a global strategy to save the world's oceans
The US Secretary of State John Kerry wants a global strategy to save the world's oceans from over-fishing, climate change and pollution. A two day summit in Washington DC is just wrapping up. The director of the US State Department's Office of Oceans and Polar Affairs, Evan Bloom, explains what the summit has achieved.
09:45 Australia correspondent Karen Middleton, Chief Political Correspondent for SBS
Reports on Prime Minister Tony Abbott considering joining the U.S. in any operation in lraq.
10:05 Family's fight for justice after Catholic church sexual abuse
Pat Feenan - Author of Holy Hell - details her son's sexual abuse by Catholic priest in New South Wales, and her fight for justice for him - which helped lead to Australia's Royal Commission into Child Sex Abuse which is half way through its 3 year inquiry.
For seven years, Father James Fletcher groomed and then inflicted violent sexual abuse on their son…..when Pat and her husband John learned the truth of what had happened, they helped Daniel find the courage to report Fletcher to the police. Fletcher was prosecuted, convicted and died in prison.
10:35 Book review: Written in My Own Heart's Blood by Diana Gabaldon
Reviewed by Graham Beattie, published by Orion
10:45 The Reading: Waiting for Einstein by Nigel Cox
A love triangle and mid-relationship disappointments precipitate a violent split between long-term friends Peter and Ralph. (Part 12 of 12).
11:05 Marty Duda's artist of the week: Jimmy Scott
Jimmy Scott was truly a unique vocalist. Born with a condition known as Kallmann's Syndrome, which kept him from experiencing puberty, Little Jimmy Scott (as he was known early in his career) had a voice unlike anyone else… high-pitched and full of feeling.
Tracks:
1. Everybody's Somebody's Fool – Lionel Hampton & His Orchestra taken from 1950 single (Decca)
2. They Say It's Wonderful – Little Jimmy Scott taken from 1963 album "Falling In Love Is Wonderful" (Tangerine)
3. All The Way – Jimmy Scott taken from 1992 album "All The Way" (Sire)
4. Bye Bye Blackbird – Jimmy Scott taken from 2002 album "But Beautiful" (Milestone)
11:30 Employment Law with Andrew Scott Howman
Andrew Scott Howman looks at employees being dismissed for airing opinions contrary to their employers'.
11:45 Arts commentator Courtney Johnston
Arts commentator Courtney Johnston discusses New Zealand's largest exhibition of contemporary jewellery.
Links:
Wunderruma at The Dowse


From left: Warwick Freeman and Karl Fritsch - Hook and Sinker, 2013; Moniek Schrijer - Untitled (Brooch), 2013; Areta Wilkinson – Hei Tupa, 2013; Lisa Walker - Untitled (Necklace), 2011

Above left: Julian Dashper at Peter McLeavey Gallery with 'I believe that children are our future'. Right: Les Paris in his living room with 'I believe that children are our future'. Photographs by Jim Barr and Mary Barr
Jeff Koons at The Whitney
Moving Jeff Koons' 'Play-Doh' (video)
Jim Barr and Mary Barr on Julian Dashper's 'The Grey in Grey Lynn'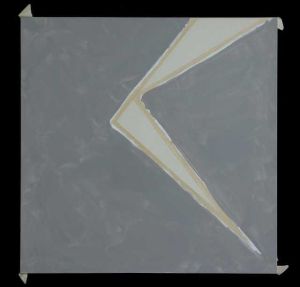 Left: Julian Dashper, 'The Grey in Grey Lynn', 1989. Acrylic and masking tape on canvas. Museum of New Zealand Te Papa Tongarewa, purchased 2006 with funds from the Harold Beauchamp bequest. Reproduced courtesy of the artist's estate. 
Music played in this show
Artist: The Last Puppet Shadows
Song: Standing Next to Me
Composer: Turner/King
Album: The Age of the Understatement
Label: Domino
Time: 9:34
Marty Duda played Jimmy Scott:
1. Everybody's Somebody's Fool
Lionel Hampton & His Orchestra
1950 single
Decca
2. They Say It's Wonderful
Little Jimmy Scott
1963 album "Falling In Love Is Wonderful"
Tangerine
3. All The Way  
Jimmy Scott
from 1992 album"All The Way"
Sire
4. Bye Bye Blackbird
Jimmy Scott
from 2002 album "But Beautiful"
Milestone