Nine To Noon for Monday 12 May 2014
09:05 Auckland University is doubling the English literacy entry standard for all students from 2016 because some students written work is so poor
Professor John Morrow is the Deputy Vice-Chancellor of the University of Auckland; and Kay Wallace, is the Head of Careers at  Auckland's Western Springs College.  
09:30 Auckland is set to be the first major city off the block to toughen liquor sales
Inspector Gary Davey, Auckland City Police Prevention Manager; councillor George Wood, who is the council's strategy and policy Committee Chairperson; and Kevin Schwass, the president of the Auckland Hospitality Association.
09:45 Europe correspondent Seamus Kearney
10:05 Feature: Egyptian writer and journalist Yasmine el-Rashidi
Yasmine el-Rashidi is a writer and journalist who is witness and party to her own country's revolution. Born, raised, educated and still living in Cairo, Yasmine was one of the 2011 Tahrir Square protesters. Her continuous coverage of the Egyptian revolution for the New York Review of Books was collected and published as The Battle for Egypt.
Previously Middle East correspondent for the Wall Street Journal, Yasmine has recently contributed an essay entitled Cairo, City in Waiting to a new volume called Writing Revolution: The Voices from Tunis to Damascus, which brings together writing born out of the Arab revolution.
10:35 Book review: Fallout by Sadie Jones
Reviewed by Elisabeth Easther, published by Chatto & Windus
10:45 The Reading: The Virgin and the Whale by Carl Nixon
A nurse looks after a returned soldier whose head injury has reduced him to an animal-like state with no memory. (Part 1 of 10).
11:05 Political commentators Matthew Hooton and Mike Williams
11:30 Food Slot - Fritters with Shannon Hauraki
Shannon Hauraki is a chef with Absolute Caterers in Northland and he has won Whangarei's Fritter Festival two years running. He will share his recipes for:
Red onion and prawn Bhaji
Spiced Potato and Spinach Fritter
Zucchini Fritter
11:45 Off the beaten track with Kennedy Warne
The Te Henga Walkway is part of the Hillary Trail – a four-day, 77km walking trail from Titirangi to Muriwai – a trail that takes in forests, rivers, wild beaches and extraordinary coastal beauty.
Links:
Auckland Council Regional Parks
Department of Conservation - Te Henga Walkway
Forest and Bird - Te Henga habitat
Ark in the Park
Gallery: Te Henga Walkway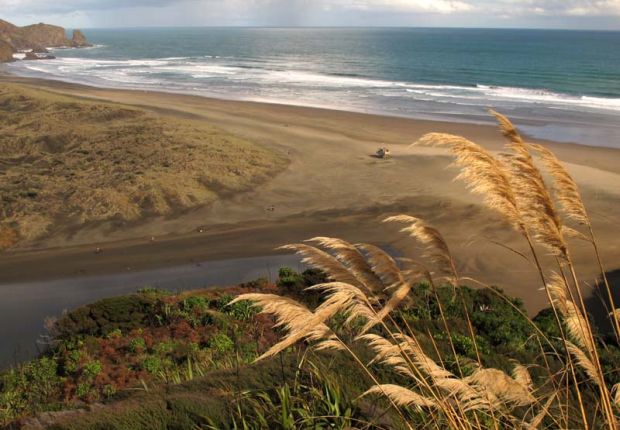 Visitors walk beside the Waitakere River to Te Henga (Bethells Beach), a popular swimming and surfing beach on Auckland's west coast.