Nine To Noon for Monday 7 April 2014
09:05 Fears Agresearch will lose vital science staff
Concerns that Agresearch will continue lose vital scientific minds as it pushes ahead with a major relocation of staff to two large hubs, despite stiff opposition from scientists and farmers.
09:20 Fears Agresearch will lose vital science staff
Former Minister of Science under Labour, who is now fighting the Agresearch restructure plans.
09:30 Growing Up in New Zealand longitudinal study
Carlos Arturo Camargo Jr., MD, DrPH, is an attending physician in the Massachusetts General Hospital Department of Emergency Medicine. He is also a professor of medicine and epidemiology at Harvard Medical School. He has recently been appointed the new chair of the Expert Scientific Advisory Group for the Growing Up in New Zealand (GUiNZ) longitudinal study.
09:45 Middle East correspondent, Francesca Borri
10:05 Feature: Angela Kane - the UN High Representative for Disarmament Affairs
The UN's Disarmanent head, who lead the difficult and tense negotiations on the ground in Syria over the country's use of chemical weapons.
10:35 Book review: Red Joan by Jennie Rooney
Reviewed by Gail Pittaway, published by Vintage.
10:45 The Reading: Blindsight by Maurice Gee
A satirical take on contemporary New Zealand society and politics. About love and relationships, power and the past, it's loaded too with spin; political, social, and literary. (Part 6 of 12)
11:05 Political commentators Mike Williams and Matthew Hooton
11:30 2013 Masterchef winner Aaron Brunet and his first cookbook
Aaron Brunet won Masterchef in 2013, and has just released his first cookbook Cook With Me.
He shares a recipe for Hot Plate Pizza
11:45 Off the beaten track with Kennedy Warne
Explores Santa Cruz Island, one of the eight Channel Islands (not to be confused with Santa Cruz, the city in California).
Gallery: Santa Cruz Island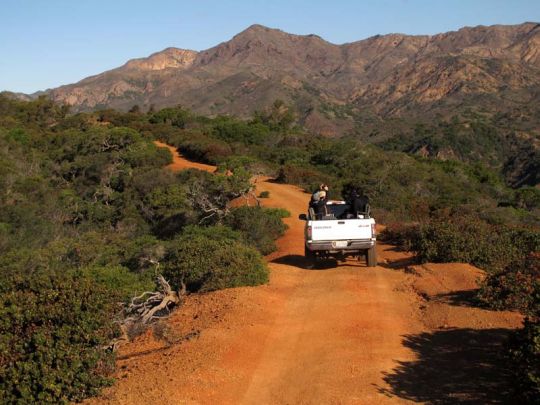 Red-dirt road heading west on Santa Cruz Island
Music played in this show
09:30
Charles Bradley
Heart of Gold
(By Neil Young)
Daptone
11:50
Michael Kiwanuka
You've Got Nothing to Lose
By Kiwanuka