Nine To Noon for Thursday 3 April 2014
09:05 Study reveals high levels of depression among pro footballers
Dr Vincent Gouttebarge, Chief Medical Officer for FIFPro, the organisation which represents an estimated 65,000 professional footballers (soccer players) worldwide.
09:20 UK Family dispute expert on New Zealand's family court changes
This week changes to the family court system took effect – with more of a focus on helping families resolve things outside of the courtroom.
The head of the UK's largest family dispute resolution service, Cafcass, Antony Douglas is in New Zealand to speak with some of those who will be dispute resolution mediators under the new system here
09:30 Architect Nat Cheshire, winner of Home of the Year
Nat Cheshire has won Home Magazine's Home of the Year competition. The winning project is two small cabins - just 28 square metres each, which sit alone beside an inlet of the Kaipara Harbour.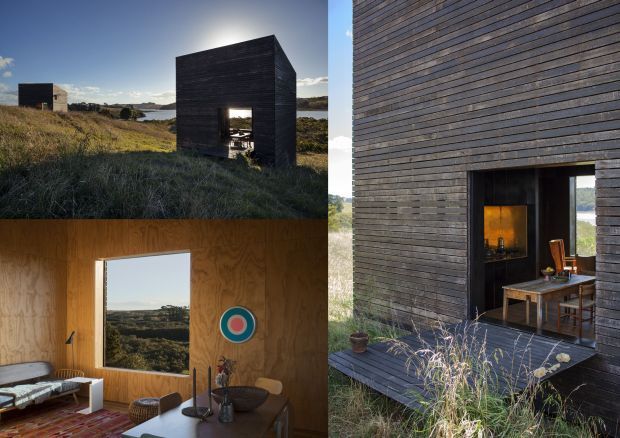 Home of the Year – Photos by Darryl Ward
09:45 UK correspondent, Kate Adie
Kate discusses Gay marriage, books for prisoners
10:05 Feature: Michael Dobbs - author of the political thriller House of Cards
Michael Dobbs – author of the political thriller House of Cards which was turned into a successful British TV series in the 1990 and a US version set in the modern day has been screening via Netflix.
10:35 Book Review: Incomplete Works by Dylan Horrocks
Incomplete Works by Dylan Horrocks. Published by Victoria University Press
10:45 The Reading: Blindsight by Maurice Gee
A satirical take on contemporary New Zealand society and politics. About love and relationships, power and the past, it's loaded too with spin; political, social, and literary. (Part 4 of 12)
11:05 New technology commentator Erika Pearson
Apple and Samsung back in court; Turkey's attempt to shut down Twitter, Security and Wifi Spots.
11:30 Parenting commentator Celia Lashlie on beligerent boys
Why is he so belligerent? Tips for dealing with angry adolescent boys.
11:45 Film reviewer, Dan Slevin
Nymphomaniac: Vol 1 (Lars Von Trier), The Grand Budapest Hotel (Wes Anderson), Noah (Darren Aronofsky)
Music played in this show
Artist: Belle And Sebastian
Song: It Could Have Been A Brilliant Career
Composer: n/a
Album: The Boy With The Arab Strap
Label: Jeepster
Broadcast time: 09:45
Artist: Beck
Song: Turn Away
Composer: Hansen
Album: Morning Phase
Label: Capitol
Broadcast time: 10:37
Artist: Sam Cooke
Song: Little Red Rooster
Composer: Burnett / Dixon
Album: n/a
Label: Abkco
Broadcast time: 11:17