Nine To Noon for Tuesday 17 December 2013
09:05 The disposal of fracking waste
Doug Edmeades, an independent soil scientist who was asked by the Taranaki Regional Council to look at the effect of drilling waste on farms in the area; and Green party energy spokesperson Gareth Hughes.
09:25 The implications of new liquor laws
Alcohol Healthwatch director Rebecca Smith and Hospitality Association CEO John Albertson, chief Executive of the Hospitality Association, discuss the new liquor laws passed last year, that come into effect from midnight. Local councils will be enforcing The Sale and Supply of Alcohol Act that sees the end of 24 hour drinking in bars, and restrictions on the sale of liquor at bottle stores and supermarkets.
09:45 US correspondent Jack Hitt
10:05 Big year interview: Afghan interpreter Parwiz Ilyas Hakimi
His big year has taken him - and his family - from Bamiyan province to the safety of Hamilton.
10:35 Book review with Louise O'Brien
The Harem Midwife by Roberta Rich. Published by Ebury Press.
10:45 The Reading: Budget Christmas
by Susan Pointon, told by Alex Grieg.
Dad has the kids coming to stay for Christmas but only has $67 till benefit day. Part 1 of 2, RNZ.
11:05 Business commentator Rod Oram
11:20 NZ Lighthouses
Photographer and publisher Grant Sheehan whose latest book Lights in the Landscape: New Zealand lighthouses,  is photographic journey from New Zealand's most northern lighthouse at Cape Reinga, to the most southern in Foveaux Strait.
Gallery: New Zealand lighthouses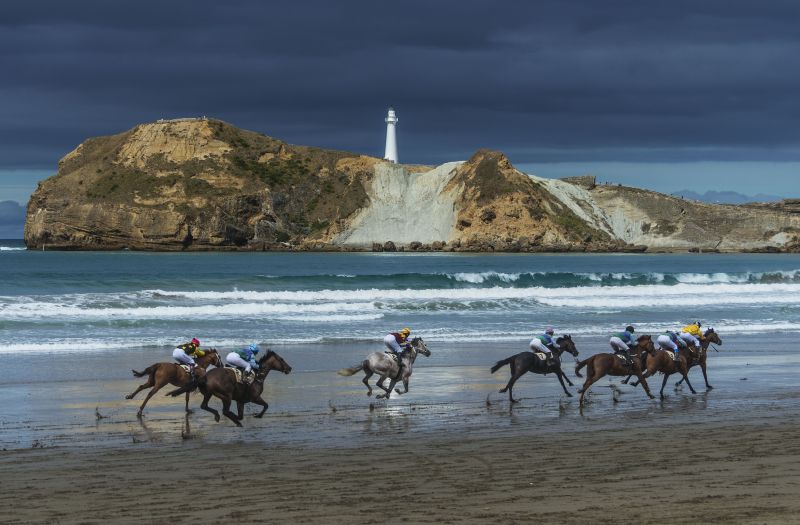 Castle Point races. Photograph by Grant Sheehan.
11:45 Media commentator Gavin Ellis
The delay in Bauer's purchase of NZ Magazines, two weekend newspaper apologies and farewell to Fred Tulett from the Southland Times and Murray Deaker from NewstalkZB.
Music played in this show
Song: Amalia
Artist: Melody Gardot
Comp: Gardot/Pereira/Roy
Album: The Absence
Label: Decca
Time Played: 10:05
Song: That's Where I'm Going
Artist: Eilen Jewell
Comp: Jewell
Album: Quenn Of The Minor Key
Label: Signature
Time Played: 10:40
Song: Humanised
Artist: Sola Rosa
Comp: Pluswatch/Spraggon
Album: Get It Together
Label: Way Up
Time Played: 11:05
Song: Come On June
Artist: Windy City Strugglers
Comp: Lake/Baysting
Album: Shine On
Label: Red Rocks
Time Played: 11:30