Nine To Noon for Friday 8 November 2013
9:05 Coming forward about sexual violence
The Police Commissioner is pleading with young women who may have been vicitms of the Roast Busters group to come foward and lay formal complaints, saying they can have complete confidence in the police.
09:20 DHB pilot programme uses incentives like grocery vouchers to help pregnant women quit smoking
Michelle Lee and Tangiora Katuke. Michelle Lee is a Counties Manukau District Health Board smokefree specialist. 27 year old Tangiora Katuke is on a smokefree pilot programme for pregnant Maori and Pacific Island women. She is pregnant with her seventh child.
To be eligible for the programme, women should be:
Pregnant - up to 28 weeks and
Maori or Pacific Island and
Living in Manurewa (includes Weymouth, Clendon and Wiri)
Email smokefree@middlemore.co.nz or phone 0800 569568 to enrol.
09:35 Ecologist who co-leads the citizen science website NatureWatchNZ
The New Zealand citizen science website NatureWatchNZ is celebrating over a year of people reporting their natural history discoveries. Amateur scientists have amassed more than 32,343 records made by more than 540 observers. Colin Meurk is an ecologist and co-leader of the project. More information is available on Facebook, or the organisation's blog. 
09:45 Pacific news with RNZI journalist Alex Perrottet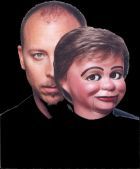 10:05 Feature guest: David Strassman - comedian, ventriloquist, pilot and adventurer
Ventriloquist and comedian David Strassman is most famous for his puppet creations Chuck Wood and Ted E Bare, made more lifelike through the cutting-edge use of robotics. In his spare time, David is also a pilot and adventurer, who regularly travels to Alaska and the Amazon. His latest show, Careful What You Wish For, is currently touring numerous locations in New Zealand.
10:35 Book review with Tilly Lloyd from Unity Books
Trip to Echo Spring: Why Writers Drink by Olivia Laing
Published by Canongate, RRP$40.00
10:45 Reading: Double Happiness - How Bullshit Works, written and read by Joe Bennett (Part 5 of 5)
Joe looks at false reasoning in television advertisements, religion and popular branding including the most successful brand of all – Coca-Cola.
11:05 New music with Sam Wicks
New music from Pearl Jam and Fall Out Boy.
11:30 Sports with Duncan Grieve
A look at the week's sport, including the Black Caps' apocalyptic tour of Bangladesh.
11:45 The week that was with Radar and Elisabeth Easther