Nine To Noon for Wednesday 30 October 2013
09:05 Are learning disabled students missing out on exam help?
Dr Trevor Crosby is the spokesperson for the Auckland Dyslexia Parent Support Group; and Anne Gaze, an educationalist, advocate, business woman, philanthropist and the founder of NCEA Campus. A website is being set up to help parents - it should be operational in the next 24 hours: The Parent Room
09:30 The role of Antarctica in climate change
Tim Naish, Director of Victoria University's Antarctic Research Centre
09:45 Australia correspondent Karen Middleton, Chief Political Correspondent for SBS
10:05 Aryeh Neier - Leading human rights figure
President emeritus of the Open Society Foundations and one of the founders of Human Rights Watch. Aryeh Neier was deeply involved in efforts to create the International Criminal Tribunal for the former Yugoslavia and has been at the forefront of the international human rights so-called 'justice cascade'. The American law professor is the author of eight books, the latest of which is called The International Human Rights Movement: A History by Aryeh Neier (Princeton University Press)
10:35 Book Review with Hon. Michael Cullen
Catastrophe: Europe Goes to War 1914 by Max Hastings.
10:45 Reading: Ginger Rogers and the Dumb Cake, a short story by Dorothy Alexander read by Heather Bolton
Grandma had a recipe for a Dumb Cake. Young women who would eat a slice and then walk backwards to bed, believing that their future husband would appear to them in dreams that night.
11:05 Artist of the Week with Marty Duda: Lou Reed tribute
As a founding member of The Velvet Underground and then as a solo artist, Lou Reed was one of the most influential musicians and songwriters of the last 50 years. Songs like 'Venus In Furs', 'I'm Waiting For The Man', 'Heroin' and 'Walk On The Wild Side' took listeners to places popular songs had never previously even gone near.
Reed's notorious lifestyle left many fans wondering if he would make it through the 1970s, but he survived to the age of 71, creating a body of work that constantly pushed boundaries and took people by surprise. His latest album was a controversial collaboration with Metallica called Lulu. Without Lou Reed, music would sound much less interesting today.
TRACKS:
1. 'Rock & Roll' (4:47) - The Velvet Underground taken from 1970 album Loaded (Cotillion)
2. 'Walk On The Wild Side' (4:12) - Lou Reed taken from 1972 album Transformer (RCA)
3. 'Dirty Blvd.' (3:29) - Lou Reed taken from 1989 album, New York (Sire)
4. 'Set The Twilight Reeling' (5:04) - Lou Reed taken from 1996 album Set The Twilight Reeling (Warner Bros.)
11:30 Law with Toni Collins
Toni Collins is a Canterbury University PhD researcher in law, who is investigating how commercial leases could be written to better deal with the aftermath of earthquakes, and how cases of disputes could progress through the courts.
11:45 Arts commentator Courtney Johnston
New exhibitions at the Adam Art Gallery, new research on the makers of ancient cave paintings, and the death of the art philosopher who helped us define "art" in the 20th century.
Gallery: Peter Robinson and John Panting at the Adam Art Gallery
Links:
Peter Robinson and John Panting at the Adam Art Gallery (until 20 December)
Were the first artists mostly women? - National Geographic
Arthur C Danto obituary - New York Times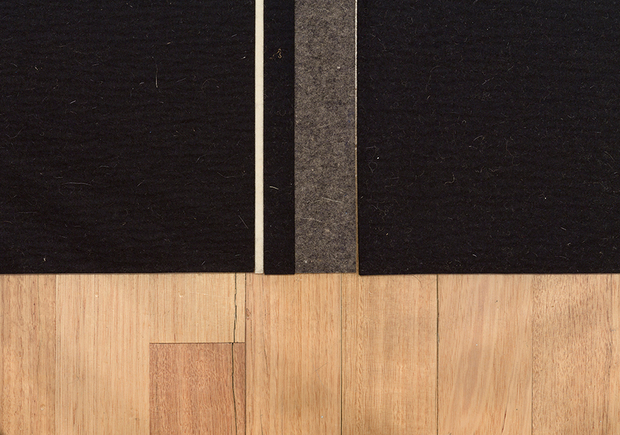 Peter Robinson, Cuts and Junctures, 2013, cut wool felt, installation dimensions variable, at the Adam Art Gallery. Courtesy the artist and Peter Mcleavey Gallery, Wellington. Photo: Shaun Waugh.