Nine To Noon for Monday 23 September 2013
09:05 America's Cup, Updated from Day 12
Todd Niall, RNZ correspondent in San Francisco.
09:15 The Chief Human Rights Commissioner on bullying in schools
Chief Human Rights Commissioner David Rutherford is hopeful new guidelines for schools on how to deal with bullying will be widely taken up. Recent research by Victoria University has provided some of the first clear data confirming that bullying is widespread.
09:35 Europe correspondent Carsten von Nahmen
The German election result.
09:40 America's Cup - Team NZ loses both races
Radio NZ correspondent in San Francisco, Todd Niall.
09:50 Team NZ reaction to America's Cup race losses
Ross Blackman, Team New Zealand's business manager.
09:55 NZ reaction to Team NZ losing two more America's Cup races
Kate Newton, RNZ reporter who is with sailing fans gathered at the Royal New Zealand Yacht Squadron in Auckland.
10:05 Deborah Marlow - businesswoman and entrepreneur
NOTICE: 24 October 2014 - In September 2013 Nine to Noon interviewed Deborah Lee Marlow, who calls herself the Business Whisperer and, "an internationally recognised, award winning Serial Entrepreneur and popular motivational speaker".
We did check out claims she had made in media articles – and confirmed she had set up businesses such as a chain of Mexican restaurants in Ireland, and had established an organisation called "The Business Whisperer".
She was also the New Zealand chapter president of the Women Presidents Organisation, and member of "Global Women", whose membership includes senior New Zealand business leaders.
Nine to Noon has now found out that Global Women is investigating Deborah Lee Marlow's membership of that organisation, after receiving information relating to her business practices.
The Women Presidents Organisation says that as of July 2014, Deborah Lee Marlow is no longer affiliated with the organisation. Its Vice President of Operations at its New York base, Camille Burns says "It is our policy not to share any information about someone we are no longer affiliated with".
The Wellington Employers Chamber of Commerce has written to Deborah Lee Marlow asking her to remove its logo from her website and Linked In page, as she has never been a member of its organisation, despite her claims.
In October 2014, Deborah Lee Marlow announced via the web she has now closed her latest business, the Kapiti Cantina restaurant in Paekakariki.
Serial entrepreneur Deborah Marlow grew up in the floating logging camps of Alaska, ran away from home at 16 and was divorced with a newborn baby by 19. After working with a re-forestation cooperative for several years she decided she wanted to be rich. She worked her way up through an LA-based IT start up – eventually becoming its Chief Operating Officer. She has lived in the US and Europe, and now is in semi-retirement in Paekakariki, on the Kapiti coast.
Gallery: Deborah Marlow's childhood in Alaska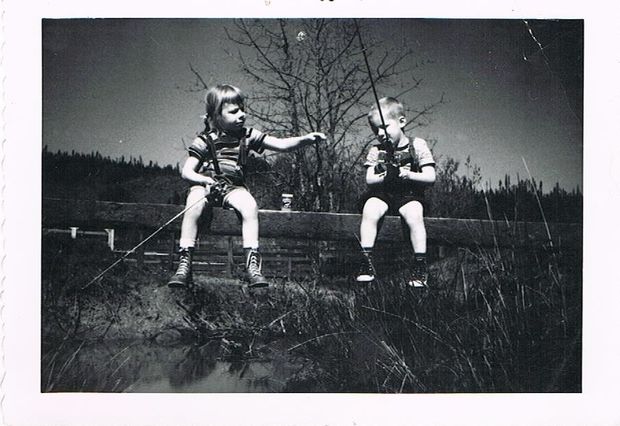 Early days - trout fishing. Image courtesy of Deborah Marlow.
10:35 Book Review with Harry Ricketts
A History of Silence: A Memoir by Lloyd Jones
Published by Penguin, $38.00
10:45 Reading: The White Rabbit, a short story by Susy Pointon
An insight into the anxiety between a mother and her son. 
11:05 Politics with Matthew Hooton and Mike Williams
The America's Cup, Labour set to unveil new caucus line-up, Labour candidate selected for Christchurch East and John Key's visit to Balmoral.
11:30 Food: Vicky Ha, Dumplings Queen
Vicky Ha set up her own dumpling business House of Dumplings in Wellington and uses many of her mother's original recipes from her childhood in Hong Kong.
Recipe: Shanghai Pork Savoy Cabbage Dumplings
11:45 Urbanist Tommy Honey
Vehicle (cars and bike) sharing from Paris to Santa Monica to NYC.
Links:
Velib: bicycle sharing in Paris
Autolib: electric car sharing in Paris
Two (motorised) wheels better - The Economist
The Balancing Act That Bike-Share Riders Just Watch - The New York Times
Santa Monica Bets on Electric Cars, but Consumers Are Slow to Switch - The New York Times
Music played in this show
11:25am
Liam Finn: 'Chase The Season'
from his 2011 album FOMO
11:45am
Anika, Boh & Hollie: 'Sea of Dreams'
from their 2013 album Peace of Mind