Nine To Noon for Monday 12 August 2013
09:05 National's housing policy
Rodney Dickens, managing director of Strategic Risk Analysis and former research director of ASB Bank; and Phillip McAllister, publisher at goodreturns.co.nz and financial commentator.
09:25 How do consumers get clear and unambiguous information about food or product safety?
Dr Peter Stevens is the CEO of GS1 New Zealand, the New Zealand arm of the global not-for-profit organisation behind the only worldwide system for bar coding.
09:45 South American correspondent Joel Richards
10:05 Sculptor Max Patte
British-born sculptor Max Patte did a technical arts degree and worked on films like the Harry Potter series and Batman before leaving the London rat race behind. He shifted to Wellington seven years ago, where he now works at Weta Workshop as the head of sculpture. His works – cast in iron, plaster and bronze – include Solace In The Wind on the Wellington waterfront and The Frolic and the Fancy commission of cast iron horses for Sir Michael Hill's golf course.
Gallery: The Sculpture of Max Patte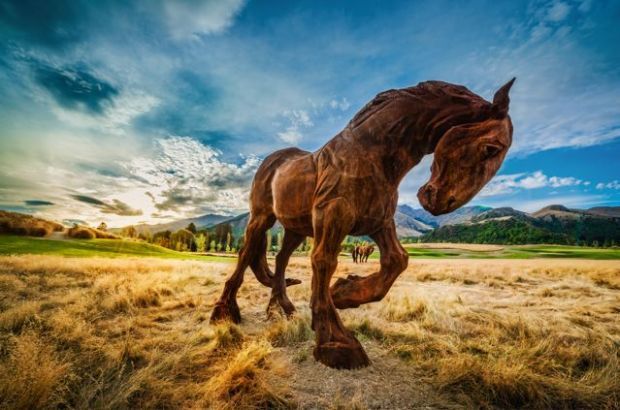 The Frolic and the Fancy by Max Patte.
10:35 Book Review with David Hill
The Demolition of the Century by Duncan Sarkies
Published by Penguin, RRP$30.00
10:45 The Reading: Epigenetics: navigating our inner seas, by Renee Liang
Read by Vanessa Rhodes
How does her research work into epigenetics inform a pregnant mother striving to do the best for her unborn baby? Winner in the non-fiction section of the Royal Society of New Zealand's 2012 Manhire prize for creative science writing.
11:05 Politics with Matthew Hooton and Mike Williams          
11:30 Food with Christina Bartlett
Christina Bartlett is a young NZ food blogger based in Canada's North Western territories, where she runs the Soma Cafe in Norman Wells.
Link: Christina Bartlett's blog
Recipes:
Spicy Black Bean Soup
Hawaiian Caribou Stir Fry
Carrot Cake Cookie-wiches
11:45 Urbanist Tommy Honey
Is improving bus services the answer to city transport problems?
Links:
Get on the Bus, Slate
Congestion Free, Generation Zero
Congestion Free Network, Auckland Transport Blog
Free Public Transport
Music played in this show
09:30am
Elis Regina: 'Roda'
from her 1966 album Elis
10:43am
Talking Heads: 'Road to Nowhere'
from their 1985 album Little Creatures