Nine To Noon for Monday 15 July 2013
09:05 Building work in Christchurch
Building decorating firms in Christchurch say building work has suddently dried up despite the fact the city needs to be rebuilt and they want to know why.
Lester Bryant, who runs a Canterbury Quantity surveying business, and set up the group Cantrades – a lobby group of tradesmen and industry organisations in Christchurch; Paul O'Donnell, the managing director of the Canterbury decorating company 0800 We Paint; and Reid Stiven, manager of the Canterbury Home Repair Programme for EQC.
09:20 Activity centres for secondary students with severe behaviour problems
Activity centres for secondary students with severe behaviour problems say they've been unfairly criticised by the Education Review Office, which has no idea how difficult and complex their job is.
Allen Perrott, head teacher at the Rotorua Activity Centre, Awhina.
09:45 Germany correspondent Carsten von Nahmen
10:05 Feature Guests - Jim and Heather Wilson
Jim and Heather Wilson and their two young sns had lived in Wellington for 18 months, but decided to sail home to the US, a journey that took them over a year. From New Zealand they sailed through the Pacific to Australia – across the Indian ocean to South Africa then on up the coast of Africa, across to Brazil and to the Carribean. Along they way they've dealt with equipment failure, cyclones, nearly colliding with a tanker, and – most dramatically – a close encounter with a boatload of desperate asylum seekers trying to make it to Australia.
10:35 Book Review with Quentin Johnson
Con Law by Mark Gimenez
Published by Hachette NZ
10:45 The Reading: The River by David Hill
Read by Peter Vere Jones.
11:05 Political commentators Matthew Hooton and Mike Williams
Labour's leadership 'coup'; the Maori Party conference; and GCSB.
11:30 Guest chefs Martin and Stephanie Lynch
Beekeeping, honey and other products.
Recipes:
Helen's Cold and Flu Remedy
Honey and Orange Glazed Carrots
11:45 Off The Beaten Track with Kennedy Warne
Sardine fever.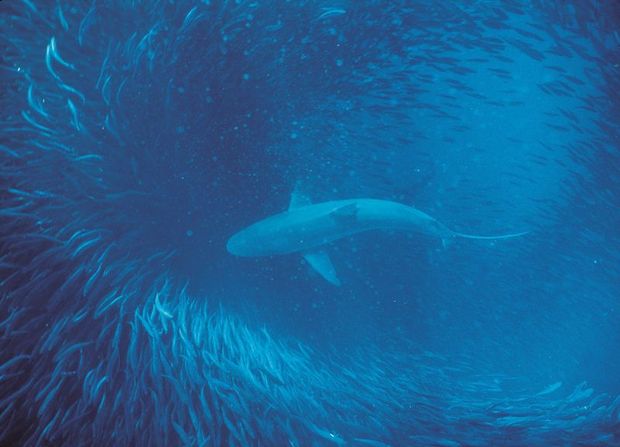 Bronze whaler in sardine shoal, South Africa.