Nine To Noon for Monday 27 May 2013
09:05 Are Christchurch demolition companies doing enough to protect workers from exposure to potentially lethal asbestos?
David Beck, Christchurch lawyer representing two rebuild workers who say they were exposed to asbestos.
09:20 CPAG's legal challenge to the Working for Families scheme – is it discriminatory against children of beneficiaries?
Susan St John is the economics spokesperson for the Child Poverty Action group.
09:35 The safety of the America's Cup
International sailor Kimball Livingston, who has covered every America's Cup since 1980 as a reporter and commentator, discusses the recommendations designed to improve the safety of the event.
09:45 Europe correspondent Seamus Kearney
Soldier stabbed in Paris, a big anti-gay marriage protest in Paris, even after a bill is signed into law and Swedish police struggle to contain rioting in poor neighbourhoods
10:05 Ursula Robb - NZ dancer
Ursula Robb is performing The New Zealand Dance Company's first international work, Anne Teresa De Keersmaeker and Mark Lorimer's Faune, inspired by Nijinsky's famous original choreography. She has been a dancer and teacher with a number of international companies including The Paris Opera, Rosas and Ultima Vez. Faune will be performed at the Auckland and Wellington shows of the NZDC's first North Island tour Language of Living, 25 May to 12 June.
10:35 Book Review with Carole Beu
Americanah by Chimamanda Ngozi Adichie
Published by Fourth Estate
10:45 Reading: 'Whale Pot Bay' by Des Hunt read by Rob Mokaraka
(Part 6 of 10)
11:05 Politics with Matthew Hooton and Mike Williams
11:30 Preserves with Fiona Gower
A Good Harvest - recipes from the gardens of Rural Woman New Zealand
Published by Random House
Recipes:
Mint and Kiwifruit Chutney
Superb Sweet Chilli Sauce
Uncooked Chilli Sauce
Feijoa and Blackberry Jam
11:45 Off the Beaten Track with Kennedy Warne
Kennedy discusses what's happening with the Denniston Plateau and a magnetic attraction to poles.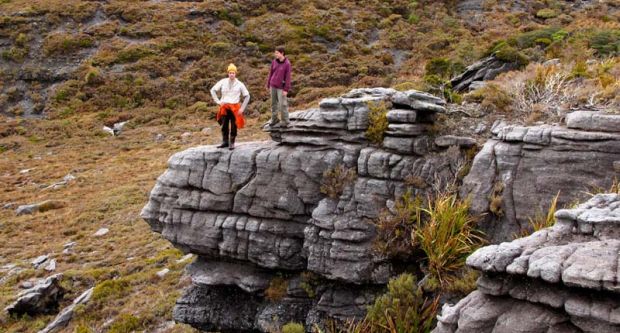 Sandstone formations at escarpment edge, Denniston Plateau.
Music played in this show
Playlist
Song: Breathless
Artist: Nick Cave
Comp: Cave
Album: Abattior Blues/The Lyre Of Orpheus (2004 Double Album)
Label: Mute
Time Played: 09:32am  
Song: Prelude A L'apres-Midi D'un Faune
Artist: Berlin Philharmonic Orchestra
Comp: Debussy
Time Played: 10:06am