Nine To Noon for Wednesday 15 May 2013
09:05 Social housing and the role of government
Lee Grace, a director of Te Aranga Limited, which is planning to buy all the Housing New Zealand homes in Flaxmere; Iris Pahau, NZ Coalition to End Homelessness spokesperson who represents the Pomare area; and Helen Gatonyi, manager of the Christchurch Tenants Protection Association.
09:30 Guantanamo in spotlight due to largest hunger strike by detainees in its history
Clive Stafford Smith is the director of the legal charity Reprieve, which has been representing Guantanamo detainees for years, including British resident Shaker Aamer who is one of those on a hunger strike.
09:45 Australia with Fairfax correspondent Peter Munro
10:05 Olaf Diegel - innovator, inventor and academic
Dunedin-born Olaf Diegel has studied here and overseas and is now a Professor of Mechatronics at Massey University in Auckland.
10:35 Book Review with Rod Alley
Friendly Fire: Nuclear Politics & The Collapse of Anzus, 1984-1987 by Gerald Hensley
Published by Auckland University Press
10:45 Reading: The Conductor by Sarah Quigley
Read by Peter Bland
The story of the writing and historic performance of Shostakovich's 7th Symphony during the siege of Leningrad.
(Part 13 of 15)
11:05 Marty Duda's Artist of the Week - The Bads
The Bads consist of Brett Adams and Dianne Swann who currently base themselves in West Auckland. The couple has been making music as The Bads since 2003, but their history reaches back a decade earlier. In the early 1990s they were based in London, and calling themselves The Julie Dolphin, recorded an album full of edgy, indie-rock. Their musical direction has shifted to a mellower folk-rock style, but they still can make quite a noise when they want to. Their latest album is Travel Light.
Tracks:
1. Still Life – The Julie Dolphin taken from 1994 album "Lit" (Timbuktu)
2. Arguments And Alcohol – Boom Boom Mancini (unreleased)
3. So Alive – The Bads taken from 2008 album "So Alive" (Warner)
4. California –The Bads taken from 2013 album "Travel Light" (Warner)
11:30 Media law commentator Ursula Cheer
Juries and social media.
11:45 Arts commentator Courtney Johnston
The opening of the Auckland Triennial and a show of geek art.
Gallery: Auckland Triennial and Bazinga! at Starkwhite
Links: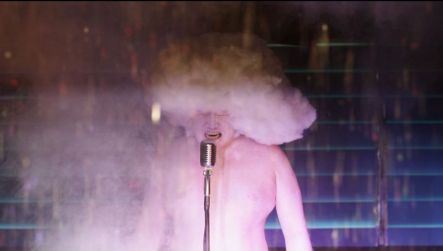 Ho Tzu Nyen, The Cloud of Unknowing, 2012.
Music played in this show
Playlist
Time: 11:46am
Title: Quando Quando Quando
Artist: Engelbert Humperdinck