Nine To Noon for Friday 7 December 2012
09:05 Clean up begins after yesterday's tornado in north-west Auckland
Deborah Booty, Hobsonville resident; and Suzanne McFadden, Whenuapai resident and freelance journalist.
09:25 Research explains why older people more likely to be victims of financial fraud
Shelley Taylor, a distinguished UCLA professor of psychology, believes she has uncovered why older people are more likely to fall prey to financial scammers – it may lie with a part of the brain that's important for discerning visual clues.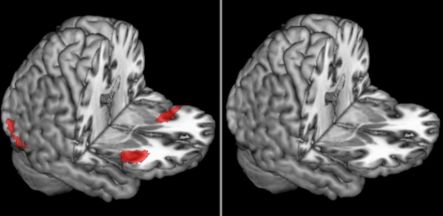 These images show that the bilateral anterior insula is more active for younger adults (left) as compared to older adults (right) when subjects are judging the trustworthiness of faces. Images provided by UCLA.
09:45 Pacific News with Mike Field
10:05 Peter Stewart - winner of the 2012 Prime Minister's Science Prize - Best Teacher
10:35 Book Review with Jane Westaway
Grace: A Memoir by Grace Coddington
Published by Vintage Australia
10:45 Reading: One Flat Coyote on the Centre Line by Karen Goa (Part 10 of 10)
Travel writer Karen Goa and her husband travel across their native Canada after 20 years enjoying the New Zealand good life.
11:05 New Music with Jeremy Taylor
Kiwiana Goes Pop, a compilation of NZ novelty hits; Paul Kelly; and The Blue Nile
Artist: Brian Edwards
Title: spoken word track
Composer: Brian Edwards
Album: Kiwiana Goes Pop
Label: Universal
Artist: Rod Derrett
Title: Puha And Pakeha
Composer: Rod Derrett
Album: Kiwiana Goes Pop
Label: Universal
Artist: Ash Burton And The Nightcaps
Title: Tea In Te Kuiti|
Composer: Ken Avery
Album: Kiwiana Goes Pop
Label: Universal
Artist: Paul Kelly
Title: New Found Year
Composer: Paul Kelly
Album: Spring And Fall
Artist: The Blue Nile
Title: The Downtown Lights
Composer: Paul Buchanan
Album: Hats
Label: Linn/EMI
11:30 Sports commentator Joseph Romanos
Cricket and the fall-out over Ross Taylor and the captaincy issue; Dan Carter named IRB player of the year; and Andrew Hore's suspension.
11:45 The Week That Was with James Elliott and Gemma Gracewood
Music played in this show
Playlist
Time Played: 09:25
Title: Lost In My Mind
Artist: The Head And The Heart
Comp: The Head And The Heart
Album: The Head And The Heart
Label: Sub Pop 870915
Time Played: 09:45
Title: Long Vows
Artist: Band Of Horses
Comp: Bridwell
Album: Mirage
Label: Columbia 546846
Time Played: 11:45
Title: I'll Be Home For Christmas
Artist: She & Him
Comp: Gannon, Kent, Ram
Album: A Very She & Him Christmas
Label: Spunk 294082