Nine To Noon for Friday 9 November 2012
09:05 West Coast calls for increased mining royalties
Paul Wylie, Buller District Council chief executive spoke to a parliamentary select committee on behalf of West Coast local authorities who want a share of coal and gold mining profits. They say this could be done by increasing royalties or by charging rates on mining operations on Crown land; and Chris Baker, chief executive of Straterra, the industry group representing the New Zealand resource sector and New Zealand mining companies.
09:30 The proposed ethnic business hub in the new Christchurch CBD
Taz Mukorombindo is the CEO of the Canterbury Business Association, which is proposing an international precinct for ethnic businesses and migrant service providers in the new CBD. The not-for-profit organisation supports immigrants and refugees with employment and business services.
09:45 Pacific news with Mike Field
10:05 Bob Harvey - former Waitakere mayor and author
Bob Harvey is a former Mayor of Waitakere City (1992-2010). He's been an ad man, a political strategist, a surfer and a very proud West Aucklander. He is currently the chair of the Auckland Waterfront Development Agency. A revised edition of his 1998 book about his beloved West Coast of Auckland and the Waitakere Ranges Untamed Coast has just been released. The updated version provides a detailed guide on the newly opened Hillary Trail, which skirts the Waitakere Ranges and the coast.
Untamed Coast: Auckland's Waitakere Ranges and West Coast Beaches by Bob Harvey, photographs by Ted Scott, published by Exisle Publishing.
Gallery: photographs by Ted Scott in Untamed Coast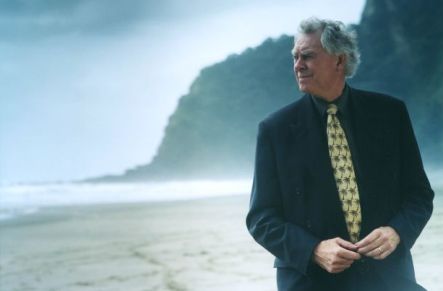 Bob Harvey on the beach. Photograph by Ted Scott.
10:35 Book Review with David Hill
A Week in Winter by Maeve Binchy
Published by Orion
10:45 The Reading: Wulf by Hamish Clayton
The award-winning story of Te Rauparaha's surprise raid in 1831 when he chartered an English trader's ship to take his war party from Kapiti to Banks Peninsula for an attack on his Kai Tahu enemy. (Part 5 of 10)
11:05 New Music review with Jeremy Taylor
Tift Merritt, Lee Hazlewood, and Heart Attack Alley
Artist: Tift Merritt
Title: Sweet Spot
Composer: Tift Merritt
Album: Traveling Alone
Label: Yep Roc
Artist: Tift Merritt
Title: Drifted Apart
Composer: Tift Merritt
Album: Traveling Alone
Label: Yep Roc
Artist: Lee Hazlewood
Title: A House Safe For Tigers
Composer: Lee Hazelwood
Album: A House Safe For Tigers
Label: Light In The Attic
Artist: Lee Hazlewood
Title; Sand Hill Anna & The Russian House
Composer: Lee Hazelwood
Album: A House Safe For Tigers
Label: Light In The Attic
Artist: Heart Attack Alley
Title: Too Hot Blues
Composer: Heart Attack Alley
Album: Living In Hell
Label: Voodoo Rhythm
11:30 Sports commentator Joseph Romanos
11:45 The Week That Was with Radar and Irene Pink
NZ's boxing's new hope, Joseph Parker; NZ Twenty20 cricket; and the unprecedented success of Richie McCaw's autobiography.
Music played in this show
Playlist
9:25am
Andy Laking: 'These Curving Streets'
from Laking's 2012 album, "Here By The Fire"
9:35am
Justine Townes Earle: 'Down on the Lower East Side'
from his 2012 album, "Nothing's Gonna Change The Way I Feel About Me Now"
11:45am
Carolina Chocolate Drops: 'Boodle-De-Bum-Bum'
from their 2012 album, "Leaving Eden"