Nine To Noon for Friday 2 November 2012
09:05 Christchuch mayor on control of the central city rebuild
Bob Parker, Christchurch mayor.
09:15 What will be the impact if the South Island's interisland ferry terminal is moved from Picton to Clifford Bay?
Sara Archdale runs Marlborough Sounds Adventure Company, based in Picton; and Peter Townsend, Canterbury Employers' Chamber of Commerce chief executive.
09:30 Are efforts to renew the Kyoto Protocol on climate change doomed to fail?
Dr Adrian Macey of Victoria University is the former chair of the international Kyoto Protocol negotiations. He was also New Zealand's first climate change ambassador from 2006 until 2010 and was responsible for New Zealand's international climate change negotiations.
09:45 Asia correspondent Jamil Anderlini
A preview of the upcoming Chinese Communist Party Congress, which will see a rare overhaul of the party's leadership.
10:05 John McCrystal  - The Riddle of the Rifleman     
Writer John McCrystal on how his painstaking research led him to identify a mystery wreck off the dangerous west coast of the sub-Antarctic Auckland Islands.
John McCrystal is a New Zealand writer and researcher.  Copies of the Rifleman report are available from the Maritime Archaeological Association of New Zealand.
Gallery: The Riddle of the Rifleman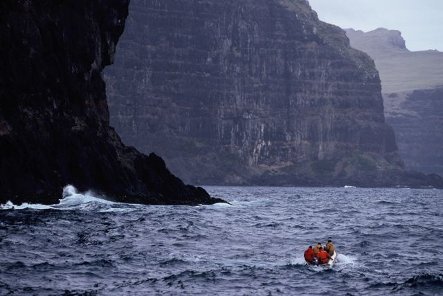 Divers explore the west coast of Auckland Island looking for likely sites to dive in the search for the American ship, General Grant, wrecked here somewhere in 1866 with a significant quantity of gold on her cargo manifest. Photograph by Mike Wilkinson. Used with permission.
10:30 Children's Book Review with John McIntyre
Kiwi - The Real Story by Annemarie Florian; illustrated by Heather Hunt   
Published by New Holland   
ISBN  978-1-86966-378-0
Manukura - The White Kiwi by Joy Cowley  illustrated by Bruce Potter
Published by Random House
ISBN  978-1-86979-838-3
Sirocco  -The Rock-Star Kakapo by Sarah Ell 
Published by  Random House
ISBN 978-186979-831-4
10:45 Reading: A Day on the Mataura with Nancy Watson written and read by Brian Turner
The author tries his luck fishing with the lovely Nancy Watson on the Mataura river. Please note: this story isn't available to listen to again online for copyright reasons.
11:05 New Music with Sean McKenna               
New music from Neil Young & Crazy Horse, Gary Clark Junior and Tim Maia.
Artist: Neil Young
Album: Psychedelic Pill
Songs: Twisted Road, Walk Like a Giant
Artist: Gary Clark Jr
Album: Blak and Blu
Song: Travis County
Artist: Tim Maia
Album: The Existential Soul of Tim Maia
Songs:  Bom Senso, Nobody Can Live Forever
11:30 Sports commentator Richard Boock 
Allegations of match fixing against Chris Cairns being thrown out and the state of the Super 15 squads.
11:45 The Week That Was with Radar and Elisabeth Easther