Nine To Noon for Monday 8 October 2012
09:05 News and current affairs
09:45 Middle East correspondent Irris Mackler
10:05 Kristy Chambers - author of Get Well Soon! My (Un)Brilliant Career as a Nurse
Kristy Chambers has written a warts-and-all memoir about her career as a nurse.
10:35 Book Review with Jane Westaway
Lost Voices by Christopher Koch
Published by HarperCollins Publishers
10:45 Reading: Shooting the Moon by V M Jones read by Matt Whelan
In this sequal to the award-winning novel Juggling with Mandarins the hero Pip McLeod is in his mid teens, wrapped up in his own emotions, and learning the hard way, what matters most of all. (Part 6 of 10, RNZ)
11:05 Political commentators Deborah Coddington and Josie Pagani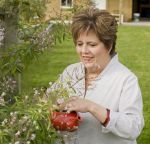 11:30 Guest chef Ruth Pretty
Ruth Pretty (pictured right) is a well-known New Zealand food personality and runs a successful catering company with her husband, Paul. She also runs cooking school classes and demonstrations. Her latest book is Ruth Pretty Cooks At Home, published by Penguin Group (NZ). Photograph by Murray Lloyd.
Recipes:
Black Olive Tapenade
Black Olive and Parmesan Rugelach
Chocolate-dipped Stuffed Figs
11:45 Off The Beaten Track with Kennedy Warne
Gallery: Postcard from Prune Country

Scarecrow at entrance to Monjoi, one entrant in a scarecrow competition.