Nine To Noon for Wednesday 3 October 2012
09:30 The Rena - should the wreck remain on the Astrolabe reef?
The class action being prepared against the owners and insurers of the Rena for losses incurred by Bay of Plenty businesses.
Robert Makgill, environmental lawyer Robert Makgill; and Julian Fitter from the award-winning Maketu-Ongatoro Wetlands Trust, which was involved in saving birdlife after the oil spill and working conserve the biodiversity of the local area – the wetlands are home to a colony of threatened New Zealand dotterel.
09:45 Australia correspondent Karen Middleton, Chief political correspondent for SBS Television
10:05 Nancy Lublin -  Dress for Success founder
One of America's most successful non-profit leaders, Nancy Lublin began Dress for Success when she was just 23 with a US$5,000 inheritance from her great-grandfather. In 2003 she took over failing social-activist group Do Something, which gets teenagers to volunteer for charitable causes. Do Something is now one of the largest youth organisations in the US with 2.2 million-plus teens taking part in its campaigns last year.
On 5 October, Dress for Success Wellington has its annual appeal in the central city.
10:35 Book Review with Gail Pittaway
Let the Old Dream Die by John Ajvide Lindqvist
Published by Text Publishing
10:45 Reading: Shooting the Moon by V M Jones read by Matt Whelan
In this sequal to the award-winning novel Juggling with Mandarins the hero Pip McLeod is in his mid teens, wrapped up in his own emotions, and learning the hard way, what matters most of all. (Part 3 of 10, RNZ)
11:05 Music with Marty Duda
Artist of the Week - Rick Wakeman
Marty has two interviews with Rick Wakeman posted on his website 13th Floor.
Tracks:
1. A Glimpse Of Heaven (3:50) - Strawbs taken from 1971 album, "From The Witchwood" (A&M)
2. Morning Has Broken (3:20) - Cat Stevens taken from 1971 album, "Teaser and the Firecat" (A&M)
3. Catherine Of Aragon (3:47) - Rick Wakeman taken from 1973 album, "The Six Wives Of Henry The VIII" (A&M)
4. Morning Star (4:30) - Jon Anderson & Rick Wakeman taken from 2010 album "The Living Tree" (Gonzo)
11:30 Media law with Ursula Cheer
Censorship and Fifty Shades of Grey.
11:45 Arts commentator Courtney Johnston
The Len Lye Centre in New Plymouth gets its funding, Gustav Klimt's last studio is reconstituted in Vienna, and Rob Cherry, Joe Sheehan and Peter Trevelyan, who have shows at Pataka in Porirua.
Gallery: Joe Sheehan, Peter Trevelyan & Rob Cherry at Pataka
Links:
Len Lye Centre
Gustav Klimt's studio reconstructed - The Art Newspaper
Pataka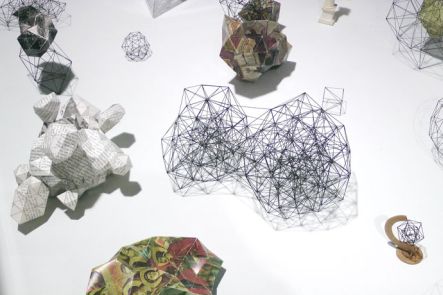 Peter Trevelyan, Mixed works (detail), 2012.