Nine To Noon for Monday 20 August 2012
09:05 Three NZ soldiers killed in Afghanistan
Hew Strachan, Professor of the History of War at Oxford who was in Afghanistan two months ago.
09:25 Three NZ soldiers killed in Afghanistan
Phil Goff, Labour's foreign affairs spokesman, and former Defence Minister.
09:40 Where are the jobs and what are employers wanting from jobseekers
Peter Conway secretary of the New Zealand Council of Trade Unions; David Lowe, the Employment Services Manager at the Employers and Manufacturers Association; and Jason Walker, the New Zealand managing director of Hays global recruitment company.
09:45 Europe correspondent Seamus Kearney
10:05 Feature Guest - P D James
Legendary British crime writer, whose latest book is called Death Comes to Pemberley, published by Allen and Unwin.
10:35 Book Review with Harry Broad
Graham Henry: Final Word by Bob Howitt
Published by HarperCollins Publishers
10:45 Reading: Rangatira by Paula Morris
Paratene and the remaining members of the party of Rangatira have been well treated in Bristol and Bath but it's cold and dark and many are becoming ill.  Kirihini is too sick to leave Bath when the group moves on to Birmingham.
11:05 Political commentators Matthew Hooton and Mike Williams
11:30 Guest chef Sean Armstrong
Recipes:
Balsamic Stuffed Ciabatta
Eye Fillet Slider with Red Pepper Relish
11:45 Off The Beaten Track with Kennedy Warne
Remnants and refuges.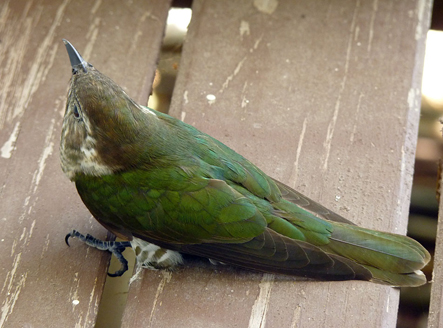 Stunned shining cuckoo after striking a window. Photograph Graeme Torrance.

Southern Alps under a threatening sky, from Kakapotahi Beach, south of Ross. Photograph by Kennedy Warne.
Music played in this show
Playlist
10:35am
Junior Wells: 'Checking on my Baby'
11:07am
The Black Seeds: 'Love Me Now'
from the 2012 album 'Dust & Dirt'
11:35am
Angus Stone: 'Wooden Chair'
from his 2012 album 'Broken Brights'