Nine To Noon for Friday 20 July 2012
09:05 Coroner's report into the death of Glenn Mills slams Corrections Department
Chief coroner Judge Neil MacLean; and Peter Williams QC, Prison Reform Society spokesperson.
09:25 Renowned Olympic historian David Wallechinksy on the preparations for the beleaguered London Games
David Wallechinsky is president-elect of International Society of Olympic Historians and author of The Complete Book of the Olympics.
09:45 Pacific correspondent Mike Field
10:05 Feature guest - radiocarbon dating specialist Nancy Beavan
US-born Dr Beavan leads research on the enigmatic ancient burial rituals of the Cardamom Mountains in southern Cambodia. Around 600 years ago, the people in these remote jungles placed the bones of their dead in large jars on steep ledges and in small wooden coffins - a practice unique to Cambodia at the time.  In 2003 Nancy was asked to radiocarbon date a piece of one of the bones, sparking her decade-long interest in finding out more about these ancient people and their remains.
Gallery: Dr Beaven's research in the Cardamom Mountains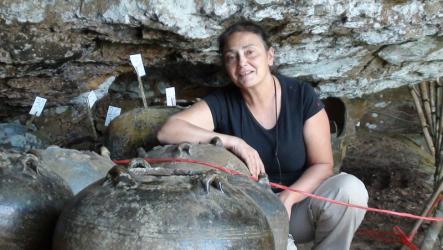 Dr Nancy Beavan with burial jars.
10:35 Book review with Maraea Rakuraku
Awhina's People by Suzanne Clark
ISBN: 9780473186821
10:45 Reading: Moon Story, by Patricia Grace
The traditional Māori tale of Rona and the Moon takes on a contemporary feel by telling the story from Rona's point of view.
11:05 Music review with Jeremy Taylor
Music from David Kilgour, My Bloody Valentine and Dirty Projectors.
11:30 Sports commentator Joseph Romanos
NZ's best Olympic medal chances.
11:45 The Week That Was with Radar and Irene Pink
The Fat Aussie charity scam, scarfies threatened with extinction, and who stole David Hasselhoff?