Nine To Noon for Monday 21 May 2012
09:05 Warning about plastic recycling claims
The competition regulator is warning that the plastics industry needs to get its house in order when it comes to potentially misleading comments about recycling products like bottles and bags. Plastics industry sources say they can't blame consumers for being confused given the worldwide argument about what terms like biodegradable, oxo-degradable and compostable actually mean and whether what happens in a laboratory is replicated in real life.
Greg Allan, a manager in the competition branch of the Commerce Commission who focuses on the Fair Trading area; Robin Martin, CEO of the industry body Plastics NZ; and Dr Peter Plimmer, a leading polymer scientist.
09:25 Prescriptions for drugs to treat ADHD soar in last decade
Frances Steinberg, psychologist and behavioural expert; and Simon Rowley, Auckland hospital paediatrician.
09:45 Europe correspondent Seamus Kearney
10:05 UK comedian, actor, writer, TV presenter and radio host Lenny Henry
Lenny Henry talks about his career, from stand-up to Shakespeare, and why music is at the heart of his new one man show Cradle to Rave – about to tour New Zealand.
10:35 Book Review with Siobhan Harvey
Secrets of the Tides by Hannah Richell
Published by Little, Brown
10:45 Reading: Playing The King by Matthew O'Sullivan (1 of 5)
We're featuring the final series performed for Radio New Zealand by the late Grant Tilly. In this series he plays the role of Hartley Manners, seventy five, an actor of the old school who is offered the chance to take on the lead role in King Lear. He can't refuse the offer of course, but will his memory and physical health be up to the challenge. The five episodes were recorded at the end of 2011, not long before cancer confined Grant Tilly to his bed. He died 11 April 2012.
11:05 Political commentators Matthew Hooton and Josie Pagani
11:30 Guest chef Natalie Oldfield and wine commentator
Every Day Kitchen by Natalie Oldfield
Recipes:
Duck With Oven-Roasted Vegetables
Open Savoury Tart With Pumpkin, Sage And Cottage Cheese
Lemon Meringue Baked Alaskas
11:45 Off the Beaten Track with Kennedy Warne
The transit of Venus - smartphone App; Wairua Valley; Lamprey; and honeybees buzzing.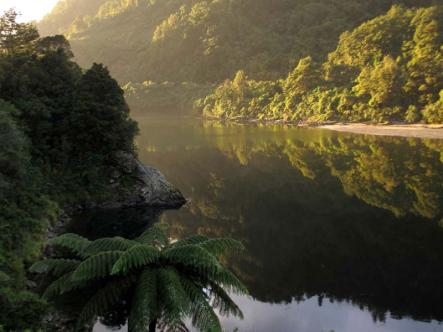 Buller River near Westport, looking east.