Nine To Noon for Monday 23 April 2012
09:05 Surfeit of newly-qualified teachers
Terry Hewetson, principal of Glen Eden Intermediate, and immediate past president of the Auckland Primary Principals Association; Diane Davies, manager of TeachNZ, a unit of the Ministry of Education; and Robin Duff, president of the Post Primary Teachers' Association.
09:30 Collaborative, inter-agency domestic violence intervention
Graham Barnes is an expat New Zealander who's a world-renowned expert on domestic violence prevention from a coordinated interagency perspective. He works at the cutting edge, with the Battered Women's Justice Project in Minneapolis, Minnesota, which brings together community organisations, law enforcement, prosecution, corrections, courts and judiciary. The project is contracted by the Federal Government to teach its model to other communities across the US.
He has worked in US for the last 10 years - previously he worked for SHINE in Auckland, and worked on an abuse intervention pilot project in Hamilton in the 1990s. He's in New Zealand to headline a series of nationwide workshops to be hosted by the National Network of Stopping Violence, Te Kupenga.
Workshop details available on the NNSV Te Kupenga website
09:45 Africa correspondent David McKenzie
Tensions in the Sudan.
10:05 Dr Keith Hammett - Ornamental plant breeder and horticulturalist
Keith is a professional private breeder of ornamental plants on a large block at Massey in West Auckland. Keith was previously a scientist with the Horticulture and Food Research Institute. Dahlias are one of his specialities.
Although Keith comes from a scientic background, he sees the creation of ornamental plants as an art form comparable to other areas of aesthetic activity. His core business is to breed new plants and he is a Patron of the Auckland Horticultural Council.
Gallery: Keith Hammett and some of his dahlias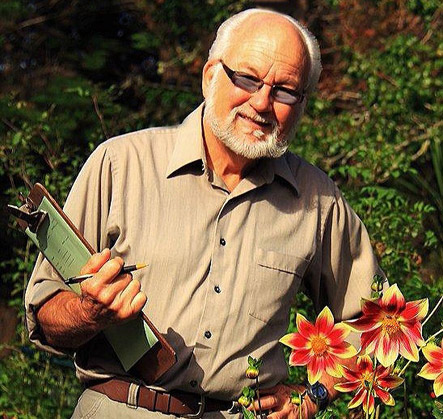 Dr Hammett's property has been developed as an arboretum, enabling  enabled the development of a series of breeding programmes involving Lathyrus, polyanthus, carnations, Dianthus, dahlias, Helianthus and chrysanthemum and more recently Amaryllis, Arthropodium, Clivia, Cosmos, Petunia, Mimulus, Nemesia, Sandersonia and Zantedeschia.
10:35 Book Review with Phil Smith
The Evolution of Inanimate Objects by Harry Karlinsky
Published by Fourth Estate
10:45 Reading: Night Flight from Bangkok, by Waiata Dawn Davies
Read by Judith Gibson
Pearl Crane has time to reflect on the romantic stages of her own relationship as she carries the ashes of her husband to Athens.
11:05 Political commentators Josie Pagani and Matthew Hooton
The Government's handling of the Sky City Convention Centre row and Crafar farms decision; Labour's leadership; and John Key's visit to Indonesia.
11:30 Guest chef Mandy Jeffries
Preserves:
Tomato Chilli Jam
Tomato Relish
Damson Plum Cordial, Jam and Paste
11:45 Off the Beaten Track with Kennedy Warne
Kennedy Warne is on the Denniston plateau exploring a lost world of giant invertebrates in a Lilliputian forest.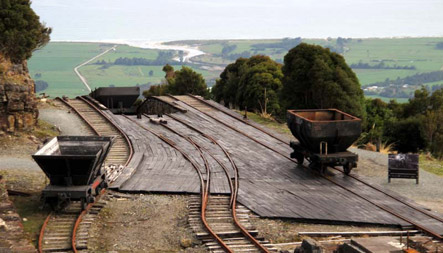 Top of Denniston incline (photo: Kennedy Warne)