Nine To Noon for Thursday 12 April 2012
09:05 Rebuild vs repair: Christchurch houses being reclassified by insurers
Leanne Curtis, spokesperson for the Canterbury Earthquake Recovery Network.
09:30 Gisborne businesses say damage to roads in and out of the city is hurting businesses and tourism, and turning it into an island nation
Gavin Murphy, president of the Gisborne Chamber of Commerce; Richard Burke, general manager of Leaderbrand, a Gisborne-based horticultural company; and Harry Wilson, New Zealand Transport Authority's director for the Waikato/Bay of Plenty Region.
09:45 UK correspondent Dame Ann Leslie
The European Court of Human Rights in Strasbourg has declared that Britain can extradite five Islamist extremists, including Abu Hamza (aka Captain Hook)  to the US to face terrorist charges there; plus teachers vs the government and Politicians tax returns.
10:05 Feature guest - Nathan Haines
Nathan's a New Zealand jazz musician who's just released a new album (his eighth) called The Poet's Embrace, which was recorded live to tape - the analogue style is reminiscent of jazz recordings from the early 1960s.
10:35 Book review with Anne Buchanan
Capital by John Lanchester
Published by Faber
10:45 Reading: The Macrocapa Hedge by  Ruth Dallas
As a tribute to actor Grant Tilly who died yesterday, we replaced our advertised story today - with one that  Grant recorded for us.
11:05 New technology with Steve McCabe
Facebook buys Instagram; developer pull "Girls Around Me" app from the App Store; and the passing of Jack Tramiel.
11:20 Architect Brian MacKay-Lyons
Canadian architect best known for his designs for houses on the coast of his native Nova Scotia and his use of Atlantic Canadian vernacular materials and construction. He is also international judge for Home Magazine's Home of the Year competition 
Gallery: Novia Scotia Coastal Houses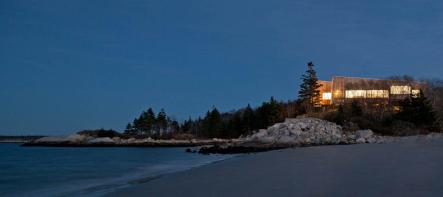 Coastal house on Nova Scotia designed by Brian MacKay-Lyons.
11:45 Media commentator Gavin Ellis
The new TVNZ CEO, and the need for more cerebral content in the media.