Nine To Noon for Thursday 26 January 2012
09:05 Ports of Auckland wants permission to expand waterfront operations
Alex Swney, Head of the Auckland downtown promotion agency Heart of the City; and Ben Chrystall, Ports of Auckland's general manager for infrastructure.
The council-owned Ports of Auckland has a long-established plan to significantly enlarge its container terminal, reaching 250-metres further into the Auckland's harbour. Now the downtown promotion agency, Heart of the City, as well as boaties and architects have banded together to oppose the expansion, saying it will block views and be a blot on the waterfront.
www.facebook.com/yourportyourcall
Ports of Auckland Development Plan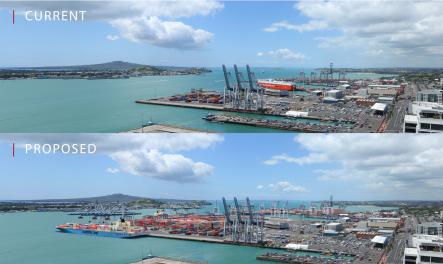 Images released by Heart of the City lobby group.
09:25 The difficulties of dealing with gangs of children who cause havoc in communities but are too young to face charges
Garry Thomas, chair of the Featherston Community Board; and Mark Henaghan, dean of Law at Otago University.
09:45 UK correspondent Kate Adie
10:05 Gary Evans - medicinal chemist and McDiarmid medal winner, on the massive task of bringing new cancer drugs to market
Gary Evans is a medicinal chemist with Industrial Research Ltd and winner of the inaugural McDiarmid medal.
10:35 Best Books of 2011 as selected by Ralph McAllister
The Hare with Amber Eyes by Edmund de Waal (Chatto and Windus)
Gifted by Patrick Evans (Victoria University Press)
Feast Day of Fools by James Lee Burke (Simon and Schuster)
10:45 Reading: Losing It by Sandy McKay (Part 4 of 10)
Jo starts to write a dairy and starts to admit her fears but refuses to see her father.
Audio will be available here after broadcast.
11:05 New Technology commentator Sarah Putt
Megaupload and the consequences for cloud computing, plus 3 ways to position New Zealand as a Hi Tech nation in 2012.
11:30 Parenting - Back to school tips
Tahlia Mandie, Australian family counsellor discusses issues around children going back to school and starting school for the first time
11:45 Media commentator Gavin Ellis
The NZ Herald editorial on the demise of Stratos, Rotorua's stand-back-and-watch-an-assault and NZ on Air and the meaning of "political".