Nine To Noon for Monday 5 December 2011
09:05 Tokoroa reels after weekend shooting
Heather Henare, Chief Executive of the National Collective of Independent Women's Refuges.
09:20     Red-stickered Christchurch homeowners left in limbo
Ralph Bungard, resident of red-stickered home in Avoca Valley; owner/operator of Three Boys Brewery; Joe Bennett, writer who is refusing to move out of his red-stickered home in Lyttelton. Ralph and Joe both live in white zoned areas but their houses are red stickered because of risk of rock fall - so they're not allowed to live in them, but are staying put despite the threat of eviction form the council.
09:30 Digital re-touching of photos - does it go too far?
Hany Farid, Professor of Computer Science at Dartmouth University, United States.
See before and after of re-touched images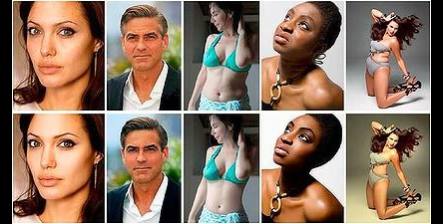 From left to right, photographs show the five levels of re-touching in a system by Hany Farid of Dartmouth.
09:45 Russia and Europe correspondent Carsten von Nahmen
10:05 Pippa Blake - widow of Sir Peter Blake
Ten years ago (5 December 2001) sporting and adventure hero Sir Peter Blake was killed by bandits at the mouth of the Amazon River. In this intimate account, Sir Peter's wife Pippa offers an intensely personal account of their life together.
Journey by Pippa Blake, published by Penguin Books.
10:30 Book Review with Nicholas Reid
The Wine of Solitude by Irene Nemirovsky
Published by Chatto & Windus
10:45 Reading. The Crime of Huey Dunstan by James McNeish (Part 1 of 10)
We meet our narrator, Ches, a blind professor, who has been called by his former student Lawrence as an expert witness in the trial of Huey Dunstan, a young man who is accused of murder.
Audio will be available here after broadcast.
11:05 Political commentators Matthew Hooton and John Pagani
11:30 Guest chef Julie Le Clerc with cakes for the festive season; wine recommendations with John Hawkesby

Tropical Stained Glass Cake
Hazelnut Meringue Gateau
Last Minute Christmas Cake
Julie Le Clerc's Favourite Cakes by Julie Le Clerc.
Published by Penguin Group (NZ)
11:45 Off The Beaten Track with Kennedy Warne
Mangroves in Miami - artist Xavier Cortada's Reclamation Project
Antarctica: http://www.cortada.com/antarctica/media/newtimes.htm
The Endangered World: http://www.xaviercortada.com/?page=EW_index
The Endangered World - North Pole Installation: http://www.xaviercortada.com/?page=EW_species
Antarctic Muon and Neutrino Detector Array (AMANDA): http://en.wikipedia.org/wiki/Antarctic_Muon_And_Neutrino_Detector_Array