Nine To Noon for Wednesday 16 November 2011
09:05 The week in politics: the "teapot tapes" and how they might affect National, and the Greens and the National billboards
Mike Williams, political commentator and former Labour Party president; and Matthew Hooton, political commentator.
09:25 Auckland secondary school sports breakaway movement?
Byron Bentley, chairman of the Auckland Secondary Schools Heads Associations and principal of MacLeans College in Pakuranga.
09:25 The Sistema Aotearoa musical development programme for children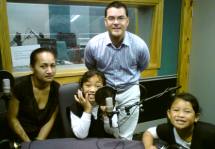 Sistema Aotearoa – a musical and social development programme modelled on El Sistema  began in the ghettos of Venuzuela – is based in Otara in South Auckland. El Sistema aims to teach orchestral music to young people but has been credited with reducing crime, increasing school attendance rates to preventing drug use.
Joe Harrop, programme director; Crystal Koinaki, Otara mother whose daughters are taking part in Sistema Aotearoa -  Teiria Koinaki and Takawai Koinaki (pictured above).
09:45 Australia correspondent Ray Moynihan
10:05 Andrew Cameron - NZ Nurse recipient of international nursing's highest award, the Red Cross Florence Nightingale Medal
Andrew Cameron is a New Zealand nurse who works in war-torn countries, including Iraq, Afghanistan, South Ossetia and the Sudan; he has just been awarded the Red Cross Florence Nightingale Medal. He tells us why in middle age he chose to work for the Red Cross in some of the toughest places on the planet.
10:35 Book Review with Dan Slevin
The Prague Cemetery by Umberto Eco
Published by Random House NZ / Harvill Secker
10:45 Reading: In the Land of the Dancing Kings by Paul Horan (Part 3 of 5)
Paul visits an important Buddhist site, and sees the oldest tree in the world.
Audio will be available here after broadcast.
11:05 Marty Duda - African musician Mulatu Astatke
Mulatu Astatke is the pioneering founder of Ethio- jazz is playing in Auckland at the Powerstation on November 25th.
1. Shagu (3:06) – Mulatu Astatke & His Ethiopian Quintet taken from 1964 E.P. (Addis Ababa)
2. Mulatu (5:04) – Mulatu Astatke taken from 1972 album, "Mulatu Of Ethiopia" (Worthy)
3. Live From Tiger Lounge (2:54) – Mulatu Astatke & The Heliocentrics taken from 2009 album "Inspiration, Information 3" (Strut)
4. The Way To Nice (5:09) – Mulatu Astatke taken from 2010 album "Steps Ahead" (Strut)
11:30 Legal commentator Ursula Cheer
Should bloggers be responsible for the content of hyperlinks on their web pages.
11:45 Science commentator David Haywood 
Mysophilia - a psychological condition involving an abnormal attraction to dirt, filth, and germs.