Nine To Noon for Wednesday 26 October 2011
09:05 Maui gas pipeline shutdown disrupts farmers, exporters and hospitals
Dorothy McKeen, manager of Middlemore Central; James Houghton, president of Waikato Federated Farmers; Rowan Ogg, Director of Operations at meat company Affco.
09:30 Christchurch's central city pop-up shopping precinct set to open
Christchurch's innercity shopping precinct is set to repoen for the first time since the February quake - the pop-up precinct will feature 27 shops and cafes built from new shipping containers. It'll also see the return of iconic Christchurch department store, Ballantynes.
John Suckling, chairman of the Re:Start the Heart Trust; and Anthony Leighs, managing director of Leighs Construction - he's heading the rebuild project.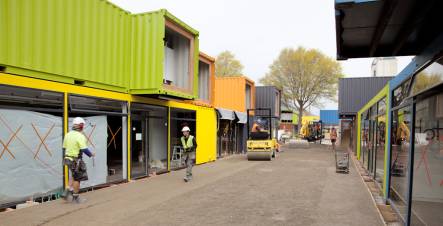 The pop up shopping precinct in central Christchurch.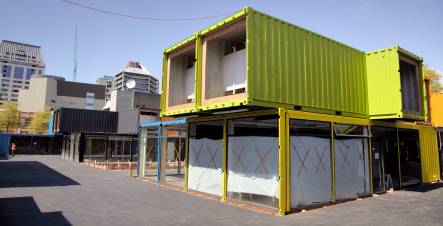 Northern precinct.
09:45 Australia correspondent Karen Middleton
The Queens visit and the looming CHOGM meeting.
10:05 Australian soprano Deborah Cheetham
Australian soprano Deborah Cheetham on writing the country's first indigenous opera and finding her racial identity as a member of the stolen generations.
10:25 Book Review with Quentin Johnson
Mao's Great Famine: The History of China's Most Devastating Catastrophe, 1958-62 by Frank Dikotter
Published by Allen & Unwin/Bloomsbury
10:45 Reading. 'Milk' by Susy Pointon (Part 2 of 4)
Tanya escapes her past and drags her kids and alcoholic ex north to the Hokianga where soon finds herself living and working on a dairy farm.
Audio will be available here after broadcast.
11:05 Marty Duda's Artist of the Week - Meatloaf
Larger than life vocalist Meat Loaf started out as Marvin Lee Aday in Dallas, Texas. He has a new album, Hell In A Handbasket, and a tour that brings him to Auckland this Saturday.

1. What You See Is What You Get (2:20) - Stoney & Meatloaf taken from 1971 single (Rare Earth)
2. You Took The Words Right Out Of My Mouth (Hot Summer Night) (5:04) - Meat Loaf taken from 1977 album, "Bat Out Of Hell" (Epic)
3. Rock & Roll Dreams Come Through (5:50) - Meat Loaf taken from 1993 album "Bat Out Of Hell II: Back To Hell" (MCA)
4. California Dreams (4:06) - Meat Loaf with Patti Russo taken from 2011 album "Hell In A Handbasket" (Sony)
11:30 Legal commentator Mai Chen
Issues looming for the government after the election.
11:45 Arts commentator Courtney Johnston
The place of art in Occupy Wall Street.