Nine To Noon for Friday 14 October 2011
09:05 Worsening environmental disaster in the Bay of Plenty has prompted fears for the economic survival of the region's tourism-dependent businesses
Max Mason, CEO, Tauranga Chamber of Commerce; Bjorn Waling, New Zealand Surf School in Mt Maunganui; and Leanne Brown, from Mt Maunganui's business association, Mount Mainstreet
09:30 The Geep
Is it a geep? Or a shoat? Taieri Plains farmer Graeme Wallace has discovered what appears to be a cross between a sheep and a goat when getting his mob in for tailing recently.
09:45 Asia correspondent Phil O'Sullivan
10:05 Costa Botes and Caleb Ross - a new documentary The Last Dogs of Winter, is about the efforts to save the endangered Qimmiq - the canadian Eskimo dog
Documentary maker Costa Botes and actor turned dog conservationist Caleb Ross discuss the The Last Dogs of Winter, a film about the battle to save Canada's endangered Eskimo dogs, the qimmiq. The film, which received a standing ovation at the Toronto Film festival, was shot over six weeks during the polar bear migration in Churchill, in Manitoba, Canada - where New Zealand actor Caleb Ross now lives.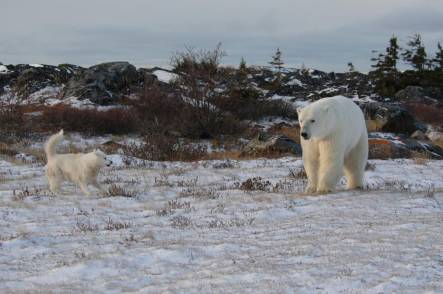 Sentinel dog challenges an approaching bear.
10:35 Book Review with Dan Slevin
Ready Player One by Ernest Clie
Published by Century
10:45 Reading: Last Day, Last Chance, Forever And Ever  by Noel Harrison (Part 4 of 5)
Vicky's family suffered an injustice in the 1880s for which she is determined to find justice today. 
Audio will be available here after broadcast.
11:05 New Music with Sean McKenna
Artist: Bjork
Album: Biophilia
Song: Cosmogony
Videos: Biophilia app preview
David Attenborough intro
The Gravity Harp
Artist: Lana Del Rey
EP: Video Games
Song: Video Games
Video: Video Games
Artist: Ryan Adams
Album: Ashes & Fire
Song: Rocks
Artist: Feist
Album: Metals
Song: Undiscovered First
11:30 Sports commentator Joseph Romanos
RWC Semi Finals weekend - the All Black Wallaby showdown.
11:45 Week That Was with James Elliot and Pinky Agnew