Nine To Noon for Friday 9 September 2011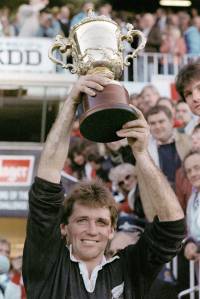 09:05 The only World Cup-winning All Black captain David Kirk on the start of the 2011 tournament.
David Kirk was the captain of the All Blacks when they won the inaugural Rugby World Cup in 1987. He discusses talks the chances of NZ chalking up a second victory in one of the world's largest sporting tournaments and how the game has evolved during the Cup's 24 year history.
Right: New Zealand team captain and scrum-half, David Kirk, raises the "Webb Ellis" cup 20 June 1987 at Eden Park in Auckland, after his team's victory over France (29-9) in the Rugby World Cup final. Photo: AFP.
09:25 Is the number of people smuggling drugs internally into NZ on the rise?
Mark Day, drug investigations manager for Customs.
09:45 Asia corrspondent Phil O'Sullivan
Six months on from the earthquake and tsunami in Japan and the Chinese government has just introduced new guidelines on how to provide first aid to the elderly.
10:05 Hello Sailor - Graham Brazier, Dave McArtney and Harry Lyon
Legendary NZ band Hello Sailor are being inducted into the NZ Music Hall of Fame. They will be honoured at the APRA Silver Scroll awards on Tuesday 13th September at the Auckland Town Hall.
10:35 Children's Book Review with John McIntyre
In The Sea There are Crocodiles by Fabio Geda
Published by David Fickling Books
ISBN 9780-0-857-56008-7
The Unforgotten Coat by Frank Cottrell Boyce
Published by Walker Books
ISBN 978-1-4063-3385-5
10:45 Book Reading: How To Watch A Game Of Rugby by Spiro Zavos
Today, the rise of women's rugby, the tribalism at the heart of rugby watching and finally, immortality and eternity in the game.
11:05 Music review with Chris Bourke
Track: Dance Me to the End of Love
Artist: Whirimako Black
Album: The Late Night Plays
Composer: Leonard Cohen
Label: Ode
Website: www.whirimako.org
Track: Wild Sweet Children
Artist: Tim Finn
Album: The View is Worth the Climb
Composer: Tim Finn
Label: ABC/Universal
Track: No Banker Left Behind
Artist: Ry Cooder
Album: Pull Up Some Dust and Sit Down
Composer: Ry Cooder
Label: Nonesuch
Track: What If It Isn't Out There?
Artist: the Silver Seas
Album: Chateau Revenge
Composer: Tashian
Label: The Lights Label
11:30 Sports commentator Richard Boock at The Cloud, Party Central
11:45 The Week That Was with Radar and Elisabeth Easther
Te Radar's new show - Eating the Dog, opens at Downstage next Wednesday.