Nine To Noon for Monday 29 August 2011
09:05 A nationwide monitoring programme has found the rates of hospitalisation for infectious and respiratory illnesses has skyrocketed in the past three years - 4800 extra admissions per year
Dr Liz Craig, New Zealand Youth and Epidemiology Service at Otago University; and Dr Nikki Turner, senior lecturer at the Department of Primary Care and General Practice at the University of Auckland and health spokesperson for the Child Poverty Action Group.
09:25 Sexual assault and intervention
Dr Linda Beckett, coordinator for Wellington's Sexual Assault Assessment and Treatment Service.
Numbers for Wellington SAATS: 04 805 0522 , 027 666 8865.
09:45 Middle East correspondent Irris Makler
Libya and Egypt/Israel relations following the militant attacks from Sinai.
10:05 Fatu Feu'u - the "father" of Pacific art
An artist who works in mostly in paint, but also does sculpture, pottery design, lithograph, woodcut and glass, Fatu Feu'u has been mentor to many Pacific artists, and is one of those exhibiting at the Pacific Showcase, at The Cloud, on Auckland's waterfront, from 6 September.
10:35 Book Review with Don Rood
A Hunting Life by Tony Orman
New Holland
10:45 Book Reading: Tremble: Resolutions a short story by Shirley Eng
When the quake strikes, Anita lies trapped in a collapsed building. As she waits for rescue she re-examines the priorities in her life and makes some resolutions. The first in a week-long a series of earthquake stories by two Christchurch writers.
11:05 Political commentators Matthew Hooton and Mike Williams
Labour's impending announcement on industry training, Labour's leadership and alcohol law reform.
11:30 Guest Chef Adam Clancey and wine commentator Stephen Morris
Kiwi Food Culture: flavours from around New Zealand
Published by Bateman Publishing
Fried Paua
Eye Fillets with Mushroom and Brandy Sauce
Pavlova
11:45 Off The Beaten Track with Kennedy Warne
A big weekend for marine conservation: five marine reserves were announced for the West Coast - the first ever for the entire South Island coast, and the Tawharanui Marine Reserve north of Auckland was opened by the Minister of Conservation.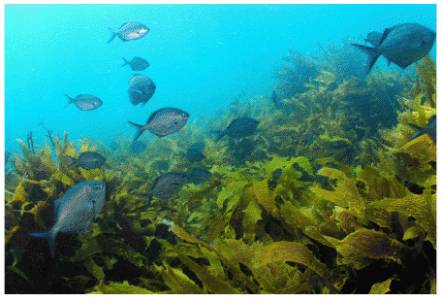 Lush kelp forest inside the Tawharanui marine sanctuary.

"Kina barrens" - rocks bereft of large algae as a result of intensive sea urchin grazing, outside the sanctuary.
Photographs by Roger Grace.