Nine To Noon for Tuesday 23 August 2011
Christine Cole Catley
The noted publisher, writer and journalist Dame Christine Cole Catley died on Sunday 21st August. She was 88, and had been diagnosed with lung cancer in June. Lynn Freeman spoke to Dame Christine in September 2010, after she won the Copyright Licensing Ltd (CLL) Writers' Award to help finance her autobiography, Getting Ready.
Christine Cole Catley set up the independant publishing company Cape Catley in 1973 and it is still going strong today. Christine also headed New Zealand's first polytechnic journalism course and has been a book and theatre reviewer and the first television critic for The Dominion and the Dominion Sunday Times. (32′24″)

Download: Ogg Vorbis  MP3
09:05 Libya at a crossroads after rebels sweep into capital Tripoli
Ali Ahmida, Libyan-born analyst and historian who has written several books about Libya, where Colonel Colonel Muammar Gaddafi's 42-year rule appears to be at an end. He's also the chair of the department of political science at the University of New England.
09:25 Food security and sustainability
David Barling, Reader in food policy at City University, London and a former member of the UK Prime Minister's Food Policy Strategy Group from 2007-2008
09:45 US correspondent Jack Hitt
10:05 Will Rayment: Southern Right Whales
Southern right whales are making a comeback in the Auckland Islands, which means we could see them return to NZ coastal waters after being hunted to near-extinction... but are we ready for their return? Will Rayment, marine scientist at Otago University.
See photographs of southern right whales.

Photograph by Will Rayment.
10:25 Book Review with Anne Else
American Pacifica by Anna North
Published by Virago
10:45 Book Reading: The Angel's Cut by Elizabeth Knox (Part 12 of 15)
A 15 part series narrated by Jacob Rajan
11:05 Business commentator Rod Oram
Pacific Fibre, the ambitious investment to vastly expand NZ's overseas telecommunications link.
11:30 Shona Moller: Kapiti-based artist
A New Zealand artist who sells half of her work to overseas collectors.
See images of Shona Moller's work.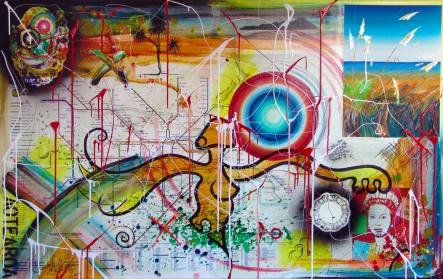 tu be with toe toe by Shona Moller (private collection Australia).
11:45 Media commentator Gavin Ellis
Newspaper circulation and readership and Telecom's media disaster.