Nine To Noon for Wednesday 20 July 2011
09:05 Reports that Israeli spies were caught up in the Christchurch quake
A Fairfax newspaper article claims the police national computer has been under scrutiny since the February quake for fears that Mossad agents may have hacked into the network. It reports that three Israelis were among those who died in the quake and one of them was found to be carrying at least five passports.
Dr Paul Buchanan is a New Zealand based political risk and market intelligence consultant, and was formerly with US Defense Department; and Daniel Ayers, Auckland-based computer forensic and IT security expert.
09:25 The far-reaching implications of the referendum on NZ's voting system
Amy Adams, National MP who chaired the special Electoral Legislation select committee. She believes the referendum risks being overshadowed by the general election on the same day and the Rugby World Cup. The referendum will ask voters if they want to keep MMP and, if it is ditched, which of four voting systems they would support.
09:45 Australia correspondent Karen Middleton
10:05 Niromi De Soyza - Tamil Tiger
Niromi De Soyza and her story as a child soldier in Sri Lanka's bloody civil war.
10:30 Book review with Sonya de Freiz
New Zealand Film: An Illustrated History by Diane Pivac & Frank Stark (editors)
Published by Te Papa Press
10:45 Reading: Spider by William Taylor (Part 3 of 10)
The story of a gangly teenager who gives up rugby to play the piano.
11:05 Marty Duda's Artist of the Week
Merle Haggard, whose film Learning To Live With Myself is showing at the International Film Festival.
1. Mama Tried – Merle Haggard & The Strangers taken from 1968 album "Mama Tried" (Capitol)
2. I Think I'll Just Stay Here And Drink – Merle Haggard taken from 1980 album "Back To The Barroom" (MCA)
3. Pancho and Lefty – Willie Nelson & Merle Haggard taken from 1983 album "Pancho and Lefty" (Epic)
4. I've Seen It Go Away – Merle Haggard taken from 2010 album "I Am What I Am" (Vanguard)
Another Merle Haggard track (Okie From Muskogee) is available to listen to at Marty's website: www.13thfloor.co.nz
11:30 Criminal lawyer Jonathan Krebbs
The major changes to criminal law with the new act before parliament
11:45 Arts commentator Courtney Johnston
Courtney discusses Julian Dashper's velvet painting Regent, which has just gone on show in Wellington at the Hamish McKay Gallery.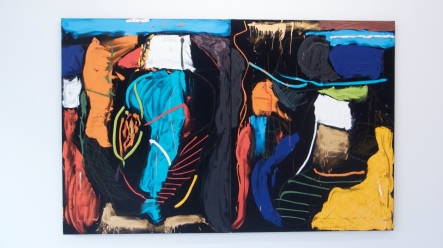 Julian Dashper, 'Regent', 1986. Oil on velvet. Private collection. Image courtesy Hamish McKay Gallery.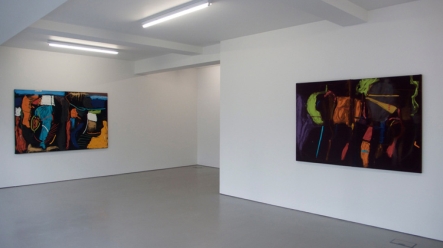 Julian Dashper - International Velvet - installation views. All works from private collections. Image courtesy Hamish McKay Gallery.