Nine To Noon for Friday 1 July 2011
09:05 Synthetic cannabis
There is mounting concern about synthetic cannabis after Kronic Pineapple Express ordered off the shelves. Leo Schep, Toxicologist at the National Poisons Centre; and Peter Dunne, Associate Health Minister.
09:20 Children of the Forest
Daniel Hopson from Manchester founded the Children of the Forest Foundation near the Thai-Burmese border - they provide a protection and education centre for stateless children affected by child trafficking between Burma and Thailand. New Zealander Mark Curragh is the foundation's manager and operations director.
www.facebook.com/childrenoftheforest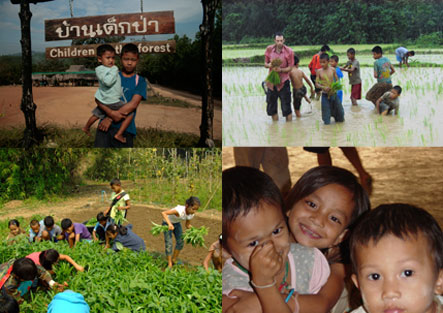 09:30 Wayne Seyb
Christchurch artist who has been documenting some of Christchurch's most treasured buildings and streetscapes on canvas before they are gone forever.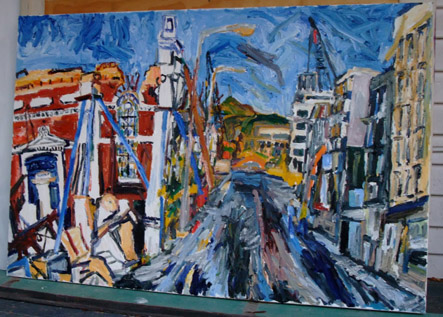 Street scene, Christchurch, by Wayne Seyb
His exhibition is Wayne Seyb:  new paintings Heritage Christchurch's treasured history, painted in the moment is open from Monday 4 July at 6pm to to 31 July, open daily, at Grove Mill Winery, 13 Waihopai Valley Road, Renwick, Marlborough.
www.thediversion.co.nz
09:45 Asia correspondent Phil O'Sullivan 
Thailand's general election and the Chinese Communist Party celebrates its 90th birthday.
10:05 Alexander McCall Smith
The Scottish author of No. 1 Ladies' Detective Agency series, Alexander McCall Smith. The award-winning writer's latest book is The Importance of Being Seven, which is from the series of the Scotland Street novels, first published as a serial novel in The Scotsman newspaper. He is also an amateur bassoonist and co-founder of the Really Terrible Orchestra.
The Importance of Being Seven
Published by Abacus
10:30 Children's Book Review with Doris Mousdale
Unfortunately by Alan Durant and Simon Rickerty published by Orchard distributed by Harper Collins
Warriors Into the Wild by Erin Hunter published by Harper Collins
A Golden Web by Barbara Quick published by Harper Collins.
10:45 Reading: Dead People's Music by Sarah Laing (part 10 of 15)
The lives of two talented cellists, Klara from 1930s New York, and Rebecca her New Zealand born granddaughter, entwine and enthral.
11:05 New Music with Chris Bourke
Chris discusses three young English singers with fresh takes on folk, country and blues: Eliza Carthy, Eilen Jewell and Thea Gilmore.
Artist: Eliza Carthy
Album: Neptune
Song: War
Composer: Eliza Carthy
Label: Hem Hem
Artist: Thea Gilmore
Album: John Wesley Harding
Song: Down Along the Cove
Composer: Bob Dylan
Label: Full Fill
Artist: Eilen Jewell
Album: Queen of the Minor Key
Song: Warning Signs
Composer: Eilen Jewell
Label: Signature Sounds/Fuse
11:30 Sports commentator Richard Boock
11:45  The Week That Was with Jeremy Elwood and Michele A'Court