Nine To Noon for Wednesday 29 June 2011
09:05 Should New Zealand follow Britain's lead and change the right of silence in child abuse cases?
Russell Wills, incoming Children's Commissioner and the director of Maternal Child and Youth Health at the Hawkes Bay DHB; and Dr Warren Young, Deputy President of the Law Commission.
09:25 Environmental degradation in the Hauraki Gulf
One of the country's most popular fishing and recreational marine spots, the Hauraki Gulf is in a state of serious environmental degredation that is continuing to worsen, according to a new report. Shane Kelly, marine environmental scientist, and lead author of the Hauraki Gulf State of the Environment Report 2011; and John Tregidga, Hauraki Mayor and Chair of the Hauraki Gulf Forum.
09:45 Australia correspondent Karen Middleton, Chief political correspondent for SBS Television discusses the good and bad news for the Australian Government this week
10:05 Roger Kerr
Business Roundtable executive director Roger Kerr was recently made a Companion of the New Zealand Order of Merit - the country's second highest honour. He has headed the roundtable since 1986. He talks about his long career, his views on the New Zealand economy and where it is headed, and his own personal health battle.
10:30 Book Review with Quentin Johnson
Carthage Must Be Destroyed: The Rise and Fall of an Ancient Civilisation by Richard Miles
Published by Penguin
10:45 Reading: Dead People's Music by Sarah Laing (part 8 of 15)
The lives of two talented cellists, Klara from 1930s New York, and Rebecca her New Zealand born granddaughter, entwine and enthral.
11:05 Music review with Marty Duda
Music of Gillian Welch - Gillian Welch has just released her new album called The Harrow & The Harvest. It's her first album since 2003.
1. Orphan Girl (3:57) - Gillian Welch taken from 1996 album "Revival" (Almo Sounds)
2. I Want To Sing That Rock & Roll (2:51) - Gillian Welch taken from 2001 album "Time (The Revelator)" (Acony)
3. Look At Miss Ohio (4:16) - Gillian Welch taken from 2003 album "Soul Journey" (Acony)
4. The Way It Goes (4:01) - Gillian Welch taken from 2011 album "The Harrow & The Harvest" (Acony)
Marty's website is www.13thfloor.co.nz
11:30 Legal commentator Ursula Cheer
The recent Court of Appeal judgment in the Clayton Weatherston appeal, which raised issues of when a conviction can be overturned because of statements made in the media during trial.
11:45 Science commentator Simon Pollard
About half of all female primates conceal ovulation to make it unlikely that males will know when they are fertile. Among the apes, humans and orangutans conceal ovulation while our closest living relative, the chimpanzee, advertise it loudly and proudly. Simon talks about some current ideas about why concealed ovulation evolved and what old school anthropologists could have learned from gibbons.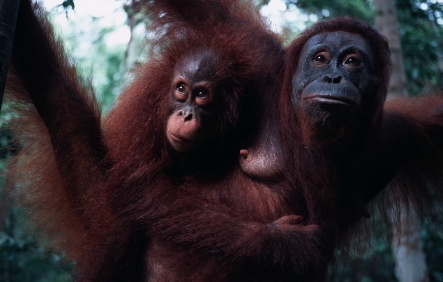 A photograph taken by Simon Pollard in Sarawak of a female orangutan and her baby.