Nine To Noon for Monday 4 April 2011
09:05 Disaster recovery lessons from Hurricane Katrina
Admiral Thad Allen, the principal federal official in charge after Hurricane Katrina battered the US Gulf Coast in 2005, killing more than 1,700 people and displacing hundreds of thousands. Prime Minister John Key says the structure of the Canterbury Earthquake Recovery Authority, or CERA, was decided upon after an examination of the way other governments responded to disasters like Hurricane Katrina.
09:25 Myfone and cellphone privacy
Sally Rae, co-owner of Myfone New Zealand, which provides software to allow parents to monitor their children's text messages and cellphone calls; and Batch Hales, from The Council for Civil Liberties.
09:45 Europe correspondent Seamus Kearney
Japan's crisis triggers widespread nuclear debate in Europe and rumours of another European bailout circle Portugal.
10:05 John Marsden - Australian writer
John Marsden is an author for young readers. His books include Tomorrow When The War Began, which last year was turned into a major motion picture, and he has recently established his own alternative school in Melbourne.
10:30 Book Review with Emma Hart
The Mereleigh Record Club Tour of New Zealand by Roy Vaughan
Published by Eloquent Books
10:45 Reading: The Other Side Of Silence by Margaret Mahy (Part 11 of 12)
The adventure of a girl who decides to stop speaking.
11:05 Politics with Matthew Hooton and Sue Bradford
Judith Tizard's decision not to replace Darren Hughes, the Green Party preliminary list and CERA.
11:30 Guest chef Jan Gardner, and wine commentator Jo Burzynska
Jan Gardner is chef/owner of Meola Kitchen, Westmere, Auckland; and Jo Burzynska is author of Wine Class: All you need to know about wine in New Zealand (Random House).
Today's recipes:
Zucchini and goat cheese souffle
Feijoa Curd
Feijoa Sorbet
11:45 Off The Beaten Track with Kennedy Warne - thoughts from the UK
See more photographs in theKennedy Warne gallery.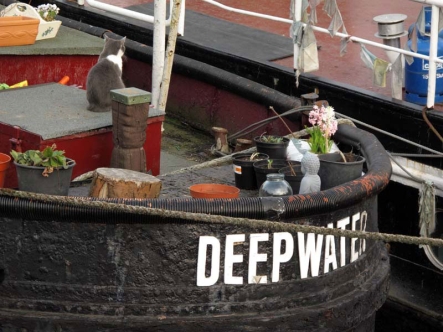 A river boat on the Thames. Photograph by Kennedy Warne.