Nine To Noon for Monday 21 February 2011
09:05 Libyan troops open fire on anti-government protesters in a crackdown that's been described as a massacre
Toby Jones, Assistant Professor of history at Rutgers University and author of the forthcoming Desert Kingdom: How Oil and Water Forged Modern Saudi Arabia.
09:20 Why is special education, statutorily required, still on the fringes of our education system?
Associate Professor Jill Bevan-Brown, Massey University's College of Education and Jenny Tippett, mother of a son with Asperger syndrome. She is one of the first to take a new course to specialise in special education.
09:45 Europe correspondent Seamus Kearney
10:05 In search of ancient New Zealand - Dr Hamish Campbell
The evolution of New Zealand - how did NZ happen, and what do our land formations tell us? Hamish's book, In Search of Ancient New Zealand, shares some of the most important stories about NZ and its geological history. Hamish is a geologist/paleontologist at GNS Science, and science communicator at Te Papa.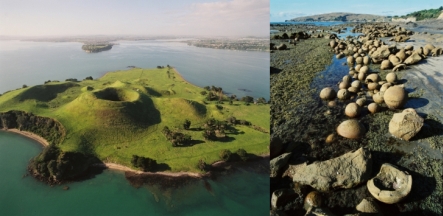 Left: Motukorea, or Browns Island, in the Hauraki Gulf. Right: Moeraki boulders on the South Island's Otago coast.
10:30 Book Review with Jane Westaway
117 Days by Ruth First
Published by Virago
10:45 Reading: Res Publica by Zireaux (Part 9 of 11)
Read by Stuart Devenie
A reading of the epic novel in verse by the poet Zireaux where Archady, a disenfranchised and disenchanted artist and husband, lays claim to a tiny island off the coast of New Zealand.
11:05 Jobs schemes for beneficiaries - Paula Bennett
The Minister of Social Development speaks out about getting beneficiaries into work and the effectiveness of job schemes like Community Max and Job Ops.
11:20 Political commentators Matthew Hooton and Sue Bradford
11:35 Guest chef Ray McVinnie and wine commentator John Hawkesby
Recipes:
Lamb Cutlets with Butter Bean Puree
Chicken, Pumpkin, Potato and Pea Curry
11:45 Off The Beaten Track with Kennedy Warne
Kennedy discusses the Cape Kidnappers nature sanctuary, the largest privately-funded mainland island conservation project in the country.
See images of the Cape Kidnappers Nature Sanctuary.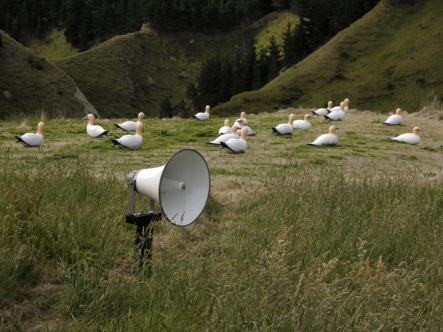 Calling all gannets: loudspeakers pointing out to sea play gannet calls night and day to attract passing birds. Fibreglass decoys, it is hoped, will fool the passersby into landing and nesting.