Nine To Noon for Wednesday 16 February 2011
09:05 Auckland man whose sister has been kidnapped by Somali pirates
Kevin van der Merwe, South African couple Deborah Calitz and Bruno Pelizzari were kidnapped by Somalian pirates who are demanding a US$10 million ransom.
09:20 Closer economic integration with Australia
As the Prime Minister of Australia Julia Gillard talks about closer economic integration with New Zealand, we ask local companies what would really make a difference to their efforts to build their business in Australia.
Geoff Hunt, CEO of Kordia; Andrew Hamilton, CEO of business growth centre, The ICEHOUSE, founded by the University of Auckland Business School and a range of companies including Boston Consulting Group, Ernst & Young, and Telecom; and Rod Oram, business commentator.
09:30 Invercargill is playing a key role in the world's most advanced space delivery truck
Chris de Cooker of the European Space Agency and Robin MacNeill of Venture Southland.
The European Space Agency's 'Automated Transfer Vehicle', or ATV, will fly over Southland this morning, where technicians and engineers from around the world will be clustered at the high-tech Awarua Earth Station, located between Invercargill and Bluff, tracking its passage to the International Space Station and relaying vital flight information to Mission Control in Kourou, French Guyana.
See images of the station and of the first ATV, Jules Verne, launched in 2008.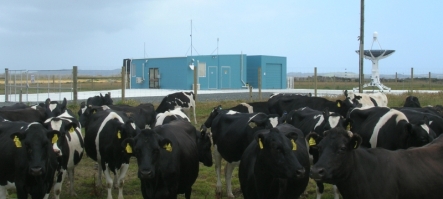 The Awarua station.
09:45 Australia correspondent Ray Moynihan
10:05 John Aloro - Sudan
John Aloro is a Sudanese refugee and chairman of the Wellington Sudanese community.
10:30 Book Review with Phil Vine
Bird Cloud by Annie Proulx
Published by Fourth Estate
10:45Reading: Res Publica by Zireaux(Part 6 of 11)
Read by Stuart Devenie
A reading of the epic novel in verse by the poet Zireaux where Archady, a disenfranchised and disenchanted artist and husband, lays claim to a tiny island off the coast of New Zealand.
11:05 Music Review with Marty Duda
www.13thfloor.co.nz - Marty's website with reviews and interviews
Artist of the Week: Tricky
1. Karmacoma (5:16) - Massive Attack taken from 1994 album "Protection" (Virgin)
2. Aftermath (5:00) - Tricky taken from 1995 album "Maxinquaye" (Island)
3. Bacative (3:51) - Tricky taken from 2008 album "Knowle West Boy" (Domino)
4. Murder Weapon (2:58) - Tricky taken from 2010 album "Mixed Race" (Domino)
11:30 Legal commentator Catriona MacLennan
How women on the DPB convicted of benefit fraud are being punished twice by being sent to jail but also being pursued to repay the full amount of the debt.
11:45 Arts commentator Courtney Johnston
Armchair art and archaeology, courtesy of Google.
The Google Art Project
Google Art Project YouTube channel
Roberta Smith, New York Times article
Alastair Sooke Telegraph article
Google Earth
New Scientist article on archaeologists using Google Earth
National Geographic article on archaeologists using Google Earth
Google Earth