Nine To Noon for Wednesday 26 January 2011
09:05 Pike River Mine - new footage has given renewed hope to families of dead miners that bodies might be intact
Tony Kokshoorn, Grey District mayor.
09:20 Canterbury quake damaged homes - some Canterbury families say they have no choice but to move back into their badly damaged homes because they can no longer afford to live elsewhere
Rob Howe, Avonside resident who has moved back into his quake damaged home with his wife and daughters; and Tom McBrearty, the chair of the Canterbury Community Earthquake Recovery Network.
09:35 Update on the PSA outbreak in NZ kiwifruit orchards
David Yard, MAF's Biosecurity NZ response manager.
09:45 Australia correspondent Karen Middleton, chief political correspondent for SBS Television
10:05 Erin McKean - creator of the hit vintage fashion website, Dress A Day
Erin McKean is the author of novel The Secret Lives of Dresses and eminent US lexicographer (was editor-in-chief for American Dictionaries at Oxford University Press).
The Secret Lives of Dresses by Erin McKean
Published by Hodder
Erin McKean runs one of the most popular vintage fashion websites in the US, www.dressaday.com.
10:30 Book Review - Best Books of 2010 with Graham Beattie
The Leopard by Jo Nesbo (Norwegian crime fiction)
Published by Harvill Secker
A Short Walk in the Hindu Kush by Eric Newby
Originally published 1958 - now reissued by Harper Press
Gino's Pasta - Everything You Need to Cook the Italian Way by Gino D'Acampo
Published by Kyle Cathie
Brideshead Abbreviated -The digested read of the 20th Century by John Crace
Published by Random House
10:45 Reading:Into the Wider World, by Brian Turner
Brian Turner, the quintessential Central Otago man - celebrated poet, social commentator, wilderness wanderer and fly fisher - reads selections from his book. (Part 3 of 10)
Listen to extended episodes ofInto the Wider World.
11:05 Music review with Marty Duda
Artist of the Week: Jimmy Buffett
1. Come Monday (3:06) - Jimmy Buffett taken from 1974 album "Living And Dying In 3/4 Time" (ABC)
2. Cheeseburger In Paradise (2:51) - Jimmy Buffett taken from 1978 album "Son Of A Son Of A Sailor" (ABC)
3. One Particular Harbor (6:24) - Jimmy Buffett from 1990 album "Feeding Frenzy" (MCA)
4. Weather With You (3:43) - Jimmy Buffett taken from 2006 album "Take The Weather With You" (Collective)
11:20 Defence lawyer Michele Wilkinson Smith
The new legal aid system which prevents people choosing their own lawyer, which is being challenged for the first time in the High Court by plaintiffs who believe they should have the right to decide who represents them.
11:45 Science correspondent Simon Pollard
Ingenious parasites.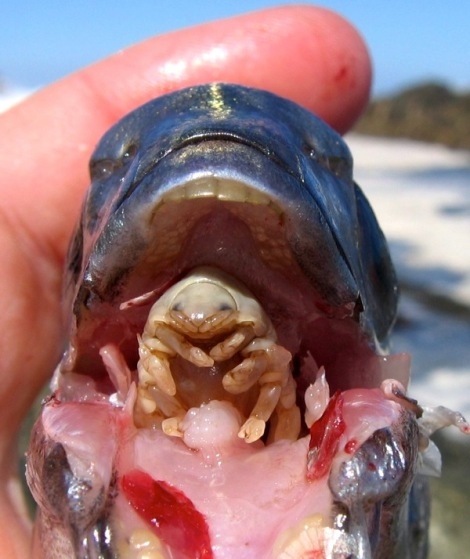 A tongue-eating louse.