Nine To Noon for Friday 24 December 2010
09:05 Highlights of 2010
Rod Oram, Matthew Hooton, Andrew Campbell, Joseph Romanos and David Haywood.
Highlights of the year from the world of business, politics, sport, and science.
09:17 Facebooking quake clean-up organiser
Sam Johnson, the Canterbury University student mobilised more than two thousand students on Facebook to help clean up after the earthquake in September.
09:35 365 days of golf
Wellingtonians Michael Goldstein and Jamie Patton have nearly completed their self-imposed challenge to play 18 holes of golf every day for a year, on 365 different courses around the globe.
09:50 How to have a preppers/survivalist Christmas
Tom Martin, CEO of the American Preppers Network and Idaho truck driver.
10:05 Big Year Interview - Bruce Lamb
Senior Constable Bruce Lamb is the Christchurch police dog handler who narrowly survived being shot in the course of duty on 13 July 2010. His police dog, Gage, was killed. Then Bruce's house was red stickered following the Christchurch earthquake in September, condemned and to be demolished.
10:30 Nota bene choir
Perform Angels from the Realms of Glory.
10:35 What to do if you're completely unprepared to cook Christmas dinner
Jo Seagar, chef/owner The Cook School, Oxford, Canterbury.
It's Easier Than You Think by Jo Seagar
Published by Random House
10:45 Christchurch earthquake bride
The Christchurch earthquake was obviously a huge story this year, and for one couple it will always be particularly memorable. Christchurch lawyer Katherine Ewer and her husband David got married that day.
Every carefully laid plan for their big day was disrupted - the church in ruins, the reception venue too dangerous to be used - even the marriage licence under rubble. The wedding went ahead on the grass outside the church.
Katherine is pictured here with two firefighters who arrived in the middle of the wedding service to rope off the church.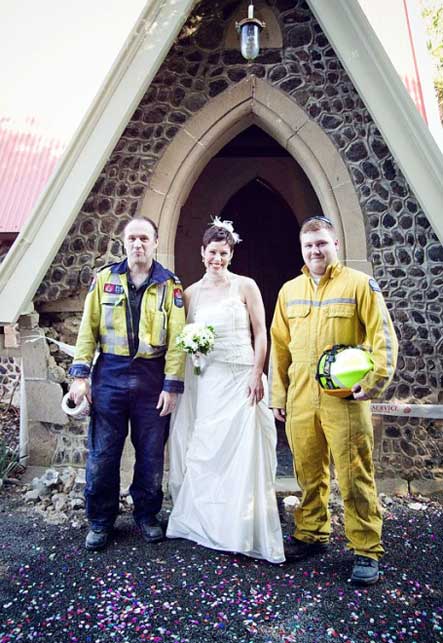 11:05 2010 highlights
With adventurer Kennedy Warne, urbanist Tommy Honey, film reviewer Graeme Tuckett and comics Radar and Pinky Agnew.
11:15 Nota Bene choir
11:18 Solving stain dilemmas
Shannon Lush, Australian "stain queen" and author of the book Stainless.
11:30 Alison Hunt and Audrey Duthier - 100 year old twins
11:45 Nota Bene choir
Holy Holy Day and Silent Night.