Nine To Noon for Tuesday 7 December 2010
09:05 Children's Commissioner hits out at authorities' handling of child neglect
John Angus, the Children's Commissioner, who has criticised Child Youth and Family and other authorities for a lack of action over child neglect which it calls the most common form of maltreatment; and Dr Rosie Marks, President of the Paediatric Society.
09:30 NZ soldier killed while serving in Afghanistan with British army
Vicki Treadell, British High Commissioner in Wellington; and Wayne Mapp, Defence Minister.
09:40 NZ's first centre devoted to research on Vitamin D
Pamela von Hurst, nutrition researcher specialising in Vitamin D and the co-director of the new Vitamin D Research Centre at Massey University on the latest research which shows that far more of the population is deficient in the vitamin that previously thought - and that the impacts of this are worse than previously thought.
09:45 US correspondent Jack Hitt
10:05 Nicolle Wallace - White House insider on working with George W. Bush and Sarah Palin
Nicolle Wallace is a New York-based writer and political commentator. She previously served as communications chief during the presidency of George W. Bush and in his 2004 re-election campaign. In 2008, Wallace also served as a senior advisor for the McCain-Palin campaign, and was blamed for many of Palin's gaffes, including her infamous interview with Katie Couric.
Her first novel, Eighteen Acres is about the first female U.S. President, and will be available in NZ later this month
10:30 Book Review with Quentin Johnson
Unbroken by Laura Hillenbrand
Published by Fourth Estate
10:45 Reading: Far From The Milling Crowd, a short story by Jane Swan
After losing her own son in a boating accident, a grandmother vainly tries to steer her young grandson away from his obsession with the sea and with boats.
11:05 Business
Gyles Beckford, Reuters New Zealand bureau chief discusses the Reserve Bank's interest rate review this week, the government's books and a KPMG survey which shows 70% of NZ companies experienced project failure, representing a significant waste of investments.
11:20 Outdoorsman and hunter Davey Hughes
Davey Hughes, owner of Swazi Apparell, talks about his latest adventures, including hunting bears with spears in Alaska and going on safari on foot in Tanzania.
See photographs from Davey Hughes time in Tanzania, Alaska and Norway - Warning: there are images in this gallery that may be distressing to some people.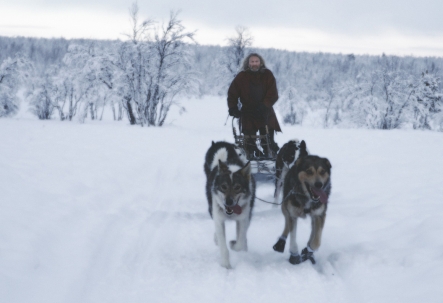 Davey Hughes in Norway.
11:45 Media commentator Denis Welch