Nine To Noon for Wednesday 17 November 2010
09:05 Kiwifruit vine disease found in orchards outside Te Puke area
David Yard, MAF's Biosecurity NZ response manager.
09:20 Cycling safety
Bevan Woodward, Auckland transport planner and convenor of Cycle Action, Auckland; Clare Ponton, Lake Taupo Cycle Challenge spokesperson and member of the event's organising committee. Ten thousand cyclists are expected to take part in the event this year, on 27 November 2010. The event has been running for 34 years.
09:35 Prince William and Kate Middleton's engagement
Dickie Arbiter, royal commentator and former Buckingham Palace spokesman.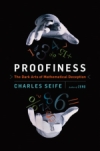 10:05 Charles Seife
The phenomenon of deception with numbers… author and professor of journalism at New York University, Charles Seife tells us why the public is so often bamboozled by dodgy statistics and bad maths.
In his new book Proofiness: The Dark Arts of Mathematical Deception, Charlies Seife explores why some studies manage to prove the most ridiculous things as true - and why we believe them.
www.huffingtonpost.com/charles-seife
Proofiness: The Dark Arts of Mathematical Deception by Charlies Seife
Published by Penguin (USA)
ISBN: 9780670022168
10:30 Book Review with Dan Slevin
Sunset Park by Paul Auster
Published by Faber Fiction
10:45 Reading: Lonelyville by Paula Morris
Robert spends his summer weekends with a group of young women on Fire Island. (Part 1 of 2)
11:05 Music review with Marty Duda
Artist of the Week: Gary Puckett
1. Woman, Woman (3:33) - The Union Gap featuring Gary Puckett taken from 1968 album "Woman, Woman" (Columbia)
2. This Girl Is A Woman Now (3:08) - Gary Puckett & The Union Gap taken from 1969 album "The New Gary Puckett & The Union Gap Album" (Columbia)
3. (Kathryn's choice - to be added)
4. I Just Don't Know What To Do With Myself (2:50) - Gary Puckett taken from 1971 album "The Gary Puckett Album" (Columbia)
11:30 Legal commentator Dean Knight
In his final conversation with Kathryn on Nine to Noon, Dean takes a look back at some of the biggest public law cases over the past few years.
11:45 Science commentator Simon Pollard
Simon looks at a recent discovery of redback spider DNA in a katipo and what this could mean for the katipo. Also, how likely is it that the redback will become widely established in New Zealand.