Nine To Noon for Wednesday 13 October 2010
09:05 The future of TVNZ
Ian Fraser, chief executive of Television New Zealand between 2002 and 2005.
TVNZ's handling of Breakfast host Paul Henry's remarks and the subsequent furore has thrown the issue of the its future as a public broadcaster back into the spotlight. Former TVNZ CEO Ian Fraser quit in 2005, saying he had lost confidence in the broadcaster's board after a turbulent time at the helm.
09:20 The union dispute between actors and the producers of The Hobbit
Greg Ellis, Wellington actor - not a member of an actors union; Graham Dunster, veteran actors agent and head of Auckland Actors (agency) www.aucklandactors.co.nz.
09:45 SBS chief political correspondent Karen Middleton
10:05 Joi Ito, Japanese internet entrepreneur
The Japanese entrepreneur who has been described as a member of the cyber-elite. Joi Ito met eBay founder Pierre Omidyar at university in the US and spotted some of the internet's most famous pioneers early in their careers, as well as investing in the likes of Flickr and SocialText.
10:25 Book Review with Justin Gregory
Three Famines by Tom Keneally
Published by Random House Australia
10:45 Reading
Slide Show, written by Carl Nixon and read by Simon O'Connor
A five part story about two boys and the uneasy relationship that develops between them and Mister McClean who lives next door (Part 3 of 5)
11:05 Marty Duda's Artist of the Week
Artist of the Week: the 12-piece "little orchestra" called Pink Martini.
1. Sympathique (2:47) - Pink Martini taken from 1997 album "Sympathique" (Heinz)
2. Hey Eugene! (3:10) - Pink Martini taken from 2007 album "Hey Eugene!" (Heinz)
3. Splendor In The Grass (3:41) - Pink Martini taken from 2009 album "Splendor In The Grass" (Heinz)
4. Dansez-Vous (5:12) - Pink Martini taken from 2009 DVD "Discover The World: Live In Concert" (Naive)
11:25 Trapped Chilean miners about to be freed
Rory Carroll, correspondent from Britain's Guardian newspaper.
11:30 Law commentator Dean Knight
Looks at several cases that have been argued before courts this month.
11:45 Arts commenator Courtney Johnston
The pleasure of collection shows - Don Driver, Toss Woollaston and Raymond MacIntyre .
See images of the works discussed in this segment.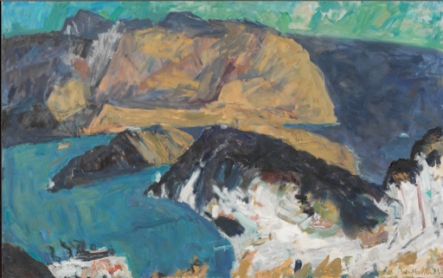 Toss Woollaston, Above Wellington, 1986. Museum of New Zealand Te Papa Tongarewa. Gift of the Friends of the National Art Gallery.http://collections.tepapa.govt.nz/ObjectDetails.aspx?oid=43490