Nine To Noon for Thursday 17 December 2009
09:05 Copenhagen climate talks
Tim Groser, Associate Climate Change Issues Minister
09:30 Scroogenomics
Joel Waldfogel, author of Scroogenomics: Why You Shouldn't Buy Presents for the Holidays. He is the Ehrenkranz Family Professor in the Department of Business and Public Policy at The Wharton School of the University of Pennsylvania.
09:45 UK correspondent Kate Adie
10:05 Ryan Nelsen and Tim Brown
All Whites captain Ryan Nelsen (below left) and vice-captain Tim Brown (below right) spearheaded the All Whites' 1-0 win over Bahrain last month that saw New Zealand qualify for the World Cup for first time in 27 years.
Images supplied by NZ Football.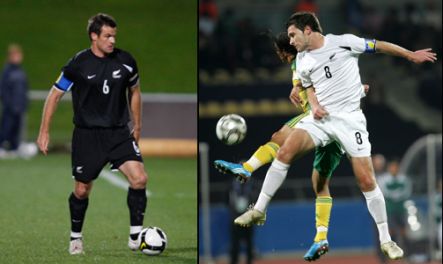 10:30 Book Review Quentin Johnson
Impact Man by Colin Beavan.
Published by Piatkus.
10:45 Reading: The Merry Marauders by Arthur J. Rees
(Part 9 of 9)
The final part in our adaptation of Arthur J Rees' rollicking and fun 1913 novel of an ill fated touring acting troupe as they toured the North Island in the early 20th century.
11:05New Technology with Colin Jackson
Makerspace - a community of people who like to build stuff in Wellington
Telecom XT failure. Not the first time. And they need to fix iPhone tethering. Hmm.
Gary McKinnon - evil hacker or confusedAsperger's sufferer?
A mobile wifi point with Internet connectivity. Good idea.
New Copyright proposals from government and attendees at a briefing about the secret ACTA treaty are told it's confidential. Who's surprised?
11:20 Nigel Latta
Psychologist and parenting expert Nigel
11:45 Television review with Simon Wilson
Simon reviews the highs and lows on the box this year