Nine To Noon for Thursday 2 October 2008
09:05 Global Credit Crunch
Peter Townsend, CEO Canterbury Employers' Chamber of Commerce talks about the US Financial Crisis and the impact starting to be felt on businesses in this country.
0920 Tribute to Rob Guest
Tina Cross and Gray Bartlett pay tribute to their friend and contemporary, Rob Guest, who died over night after a massive stroke.
Hear a Musical Chairs Special on Rod Guest
09:30 Bladder Over activity
Dr Rita Valentino, Neuroscientist at the Children's Hospital of Philadelphia in Pennsylvania.
The urge to pee too frequently might literally mess with your mind. Experiments in rats show that an overactive bladder changes brain activity. If the same is true in humans, it could in part explain the disrupted sleep, reduced ability to concentrate and confusion that often accompany ageing.
"If you have an overactive bladder, you don't just have a bladder problem. It has neurobehavioural consequences,"
09:45 UK Correspondent Jon Dennis
10:05 The Nomad - Internationally-renowned DJ / producer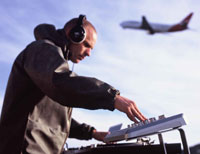 Daimon Shwalger - a-k-a The Nomad - a white boy in a Samoan family who has become one of our most in-demand music producers and DJs.
The Nomad (Daimon Schwalger) has taken the road less-travelled in search of the good groove. The internationally-renown DJ / producer has crafted a significant and successful career for more than a decade both behind the decks and in control of his production studio, having released five albums to date - with a sixth due for release later in 2008. The Nomad celebrates ten years since the release of his first album Movement with Selected Works, an album of favourite originals, remixes and new tracks. Beginning in 1993 in Dunedin, New Zealand, Schwalger has turned a passion for new music into a profession that has seen him DJ sell-out crowds around the world. In addition, Schwalger runs record label Fresh Produce, equipped with his own music studio, and teaches music production to the next generation of New Zealand's musicians and producers.
10:30 Book Review with Bruce Brown
Nodry: Arnold Nordmeyer - a political biography by Mary Logan Published by Steele Roberts
ISBN 978 1 877448 331
10:45 Reading: 'How To Listen To Pop Music'
Written and read by Nick Bollinger (Episode 4 of 10)
11:05 New Technology with Colin Jackson
Today's topic: Google's new mobile phone, the Android.
The Star-Times on spying on your partner's mobile phone - last week's uncritical article and this week's more balanced one.
A piece about Mersenne primes and how to find them.
Firstreactions to the first Android telephone.
The Guardian on Google's open approach versus Apple's "walled garden".
11:30 Chef Ben Canaider
Ben Canaider, author of a tongue-in-cheek guide to the life of the celebrity chef, Cuisine du Moi.
11:45 Television Review with Simon Wilson