Nine To Noon for Tuesday 30 September 2008
09:05
09:20 Human Rights Watch turns 30
Kenneth Roth, Executive Director of Human Rights Watch - based in New York.
09:30 Drunk Crowds
Simon Moore, Cardiff University
09:45 US correspondent Jack Hitt
10:05 Arms Wide Open
Judy Davidson, author of Arms Wide Open
10:30 Book Review with Ralph McAllister
A Beautiful Place to Die by Malla Nunn
Published byPan MacMillan Australia
ISBN 9781405038775
10:45 Reading: How To Listen To Pop Music
Written and read by Nick Bollinger (Episode 2 of 10)
11:05 Business with Rod Oram
Business and Economic commentator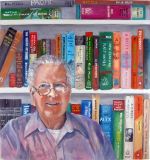 11:30 Ray Richards
The veteran book publisher and literary agent talks about his seven decades in the industry. Ray spent the first half of his career working for publishers AH and AW Reed, before setting up his own agency in the late 1970's. He is now 87 and still working as an agent, and says he is still passionate about New Zealand writing.
Pictured right is Ray Richards as painted by his wife Barbara Richards.
11:45 Media commentator Denis Welch